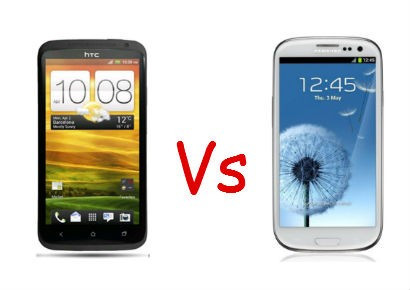 HTC One X vs Samsung Galaxy S3: Introduction
Gone are the days when a 3.5in iPhone was considered to be a large smartphone, as now the HTC One X and Samsung Galaxy S3 have proved that screens approaching five inches are what consumers what.
By offering masses of screen real estate, these phones are comfortably larger than the last generation and aren't too far away from small tablets, with quad-core performance to match.
Both offer those huge, high-definition screens and quad-core processors, both run Android 4.0 Ice Cream Sandwich (and will presumably get Jelly Bean soon), both have eight-megapixel cameras, and both cost around £500 SIM-free or £40 a month.
But which one is best?
Key Features:
HTC One X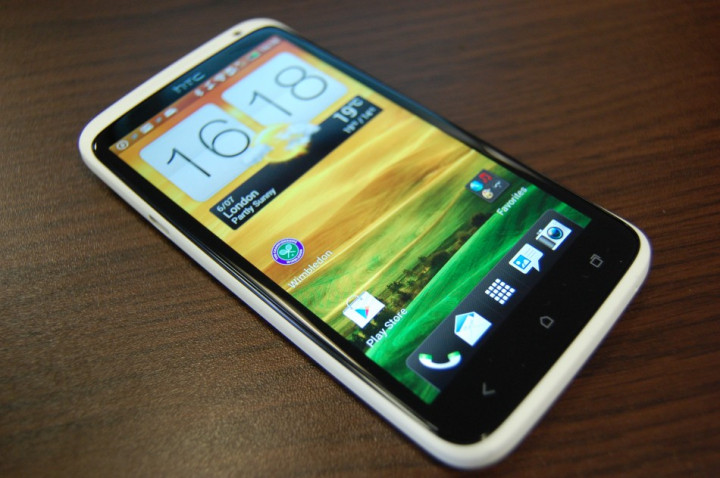 4.7in Super IPS 720 x 1280 pixel display
1.5GHz quad-core Tegra 3 processor
Android 4 .0 (Ice Cream Sandwich) with HTC Sense 4.0
32GB internal storage
Price as reviewed: Free on £41 per month
Samsung Galaxy S3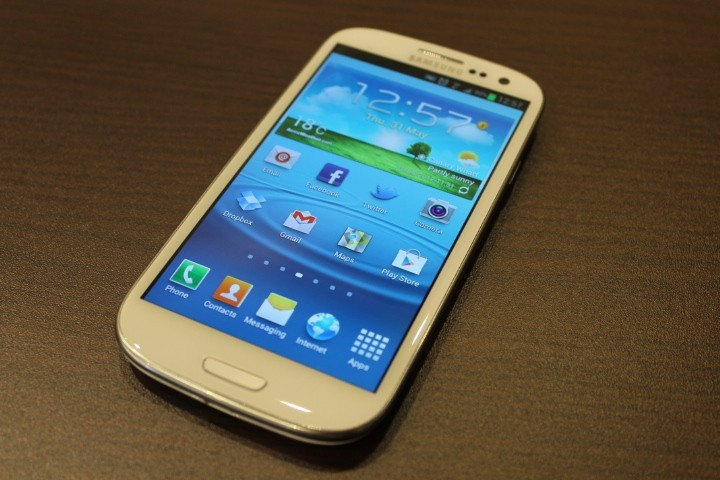 4.8in super AMOLED screen
Quad-core 1.4GHz processor
8 megapixel camera with HD video
Android 4.0.4 (Ice Cream Sandwich)
S-Voice
Price as reviewed: £500 SIM-free, free on £41 per month
HTC One X vs Samsung Galaxy S3: Design and Build Quality
As you would expect, the two phones are almost exactly the same size, with the HTC measuring 134.4 x 69.9 x 8.9 mm and weighing 130g, while the Galaxy S3 is larger at 136.6 x 70.6mm, but is slightly thinner at 8.6mm and weighs 133g, three grams more than the HTC.
A major difference between the two phones is the rear case, with the Galaxy S3 having a cheap-feeling glossy plastic cover, compared to the One X's polycarbonate unibody design that has a matt finish which we think gives a more premium feel.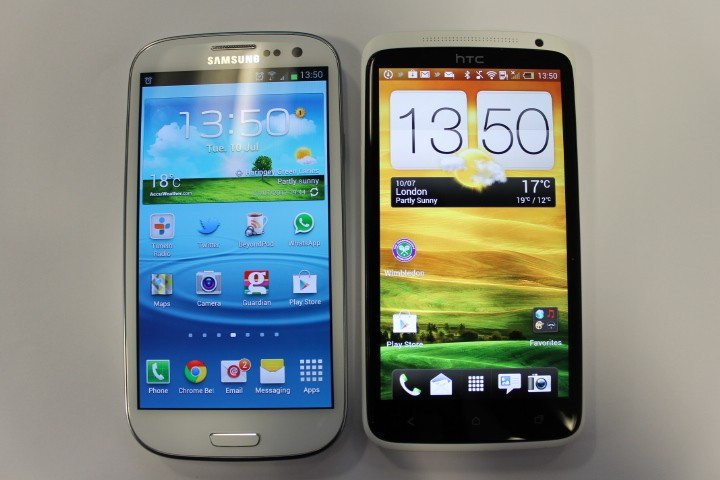 The HTC's unibody design makes the phone feel incredibly strong and well built, but means that access to the battery is not possible and there is no microSD card slot for extra storage - you're stuck with the 32GB it has as standard.
Both phones use Gorilla glass to protect the screens, which should prevent any scratches, but we can't help but feel disappointed with the Galaxy S3.
Using plastic on the sides and back instead of glass - as with the iPhone 4S - is fine, but colouring the sides silver to make it look like aluminium is annoying.
We speak more about the lack of quality in our in-depth Galaxy S3 review, but can't help saying again that the use of a metal-look plastic band around the edge and flimsy plastic rear cover are a real disappointment for a phone costing more than £500.
The size of both phones makes typing with one hand difficult, especially if you've got small hands, but being able to browse the internet and watch videos on a screen this good more than makes up for this in both cases.
Although both smartphones get a front-facing camera in the top-right corner, this is where Samsung and HTC split ways when it comes to design and layout.
The Galaxy S3 gets a physical home button, flanked by capacitive touch buttons on either side which disappear when not in use. The One X, on the other hand, relies entirely on touch buttons, with the Ice Cream Sandwich standard of three below the screen for back, home and to open apps.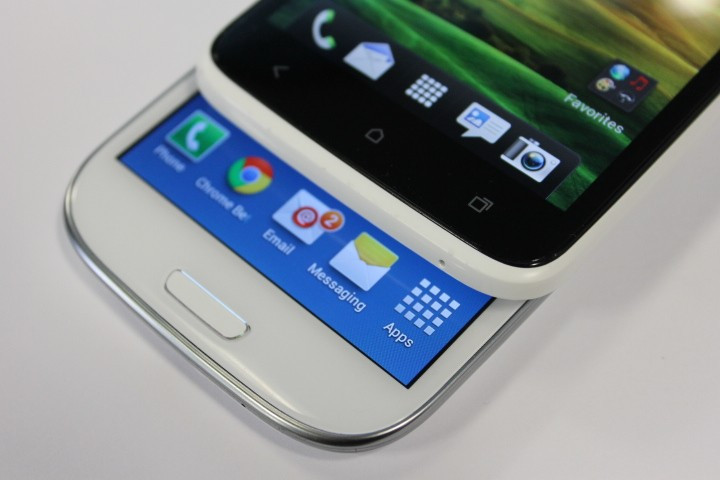 Unlike the S3, the One X's touch buttons can be seen at all times against the black screen border, but do light up when the ambient light sensor in the upper-left corner deems it necessary.
As the One X's rear case cannot be removed, there is a microSIM card slot behind the front-facing camera, which is opened by inserting a pin into a small hole, like on the iPhone 4S,. Next to the One X's microSIM slot is a 3.5mm headphone jack.
Also in the upper-right corner is the power and screen lock button. Placing this button here has almost become the industry norm, but Samsung bucks the trend by placing its lock button on the right edge, which at first takes some getting used to.
While the white polycarbonate cover resists scratches and fingerprints well, it did however pick up dirt pretty easily, meaning our sparkling new HTC One X looked quite grubby after only a few hours of handling - but maybe we've just got dirty hands. These smudges are easily removable with a damp cloth.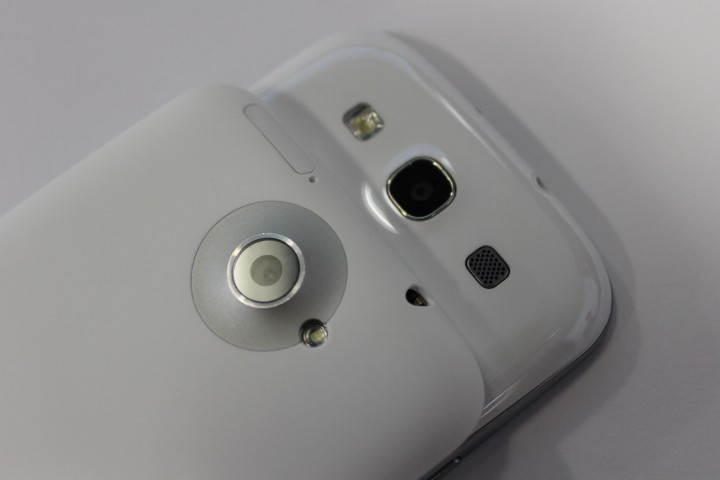 Overall we love the look and feel of the One X. It feels solid in the hand and while at times accessing the power button was awkward due to the sheer size of the phone, we rarely felt this phone was too big.
Both phones sync and charge over microUSB, which is on the bottom of the Galaxy S3 and the upper-left edge of the One X.
Around the back, both handsets get treated to an eight-megapixel camera with autofocus and HD video recording, and both can take photographs while shooting video at the same time.
Verdict
Some consumers will be annoyed that the HTC One X does not take microSD cards and has a non-replaceable battery, but we're willing to let those problems go in return for an incredibly solid and premium feel that is no match for the S3, which disappointed us with its shiny plastic and fake metal.
HTC One X vs Samsung Galaxy S3: Screen
Both phones offer truly remarkable screens, with a HD resolution of 720 x 1280. However, the One X offers a slightly higher pixel density of 316 per inch, whereas the Galaxy S3 manages 306ppi. That puts both of them slightly behind the iPhone 4S with its 326ppi, albeit on a screen more than an inch smaller.
What the HTC One X and Galaxy S3 both prove, is that this is the new standard for smartphone screen size and that Apple will have to up its game and increase the iPhone to at least four inches if it is going to compete.
Rather than using the Super AMOLED Plus technology seen in the Galaxy S2, the S3 has a Super AMOLED panel which uses a PenTile subpixel structure. This means that rather than each pixel having three subpixels (red, blue, green) they have two (alternating between red and blue, and blue and green).
In previous PenTile screens this has led to problems such as a distinct colour fringe between black and white text, and a blue hue coming from the screen.
Thankfully, due to the high pixel density and other tweaks, most of these problems have been eliminated - though there is still a blue hue when viewing the screen from an angle.
The HTC doesn't suffer from this - admittedly small - problem, but offers a fantastic screen that is evenly lit and incredibly responsive to touch inputs.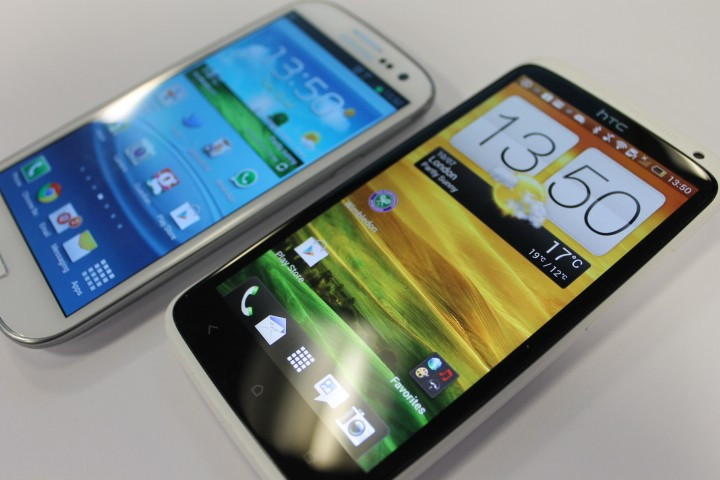 Verdict
Both screens are truly excellent, despite the slight blue tinge of the Galaxy S3.
On balance though, we're going to go with the HTC One X - it is simply the best smartphone screen on the market today, and has also proved that larger smartphones are the future.
HTC One X vs Samsung Galaxy S3: Camera
Both phones use an eight-megapixel camera with autofocus and LED flash and both have the neat party trick of being able to shoot HD video and take photographs at the same time. Both can zoom in and out while recording video, too.
The Galaxy S3 and One X also offer a wide range of settings and filters for their cameras. ISO, white balance, exposure, contrast, saturation and sharpness can be adjusted and there's also face detection with both phones.
Neither smartphone quite offers the quality (both of the image sensor and lens optics) that you get with a £100 point-and-shoot camera, although they do a great job and help the smartphone sector take a step closer to replacing the compact camera completely.
Both phones miss out on a physical shutter button, meaning that tapping an onscreen icon is the only way to take a photo, which can lead to holding the phone awkwardly and missing out on the perfect shot. This is a small niggle rather than a deal-breaker.
As you can see from the example shots at the end of this review, although shot in different weather, the cameras both produce similar results. We'd say that the Galaxy S3 does a better job at remaining clear while zooming, but otherwise the two phone are very close.
Verdict:
Picking the best camera between these two is tough, but we think the Galaxy S3 just about edges it due to having a larger range of options and settings, and better quality when zooming. Take a look at the photos taken with each phone at the bottom of this comparison to decide which you prefer.
HTC One X vs Samsung Galaxy S3: Connectivity and Hardware
Both phones offer Wi-Fi and Bluetooth, as well as NFC, although you'll be hard pressed to get much use out of that in the UK just yet, as only a handful of retailers, O2 and Barclays are getting involved with contactless payment technology.
Charging and syncing is done via a single microUSB port on each phone and both can transmit HD content over the port, but the Galaxy S3 requires a bespoke Samsung HDMI adapter, while the One X will work with any regular Mobile High Definition Link adaptor.
One of the S3's many party tricks - called Smart Stay - is that it knows when it is being looked at, and when it isn't. By checking with the front-facing camera every few seconds, the phone will keep the screen on if it detects a face looking at it, but if you're not looking then the screen will dim and lock according to your preferences.
In testing we noticed Smart Stay to work perfectly indoors, but sometimes struggled to notice that we were looking at it in bright sunlight. When it worked, the Galaxy S3 stayed awake while we were reading the screen, but would dim a few seconds after we glanced away. Sure, it's a bit weird to think that your phone is 'watching' you, but it works well all the same - just not in bright natural light, presumably because of issues with exposure.
The Galaxy S3 can also use its front camera to unlock the phone using face detection. Once the phone has learnt your face by taking a photo it will unlock by simply being looked at (although it is advised that you take more than one photo, with and without glasses and in different lighting, for example).
We found the face detection to be reliable and quick and only occasionally did it fail to work, prompting us to enter a predefined PIN as a backup.
One downside, however, was when someone else was able to successfully unlock the phone simply using a photograph of us. To its credit, Samsung does say that face detection isn't as secure as using a PIN or longer password, but it is something you should be aware of.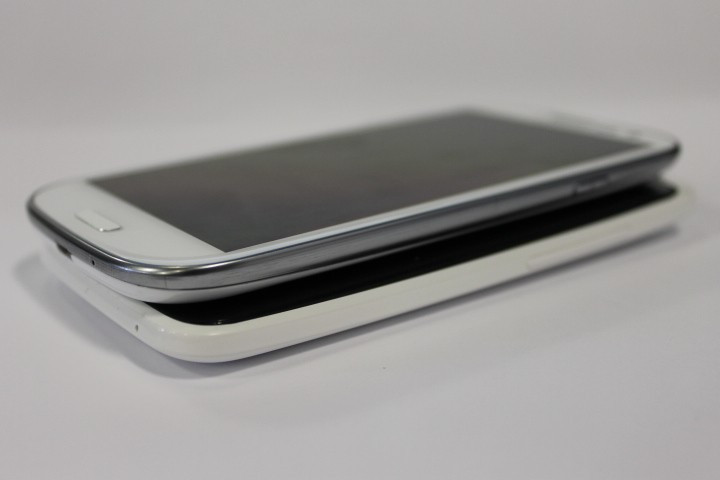 Verdict
The Galaxy S3 wins this round due to the flexibility offered from having a user-changable battery and microSD card slot, both of which are missing on the One X, limiting the phone's functionality.
HTC One X vs Samsung Galaxy S3: Performance and Operating System
The Samsung Galaxy S3 is powered by a quad-core 1.4GHz processor with 1GB of RAM and comes with 16GB of internal storage as standard - while a 32GB model is coming soon and is exclusive to Vodafone at launch.
HTC has equipped the One X with a 1.5Ghz Tegra 3 System-on-Chip (SoC) from Nvidia. The company is promoting Tegra 3 as having 4-PLUS-1 architecture. The PLUS-1 in this case is a low-power, fifth companion core to the main four processing cores, which is put to use when the phone is idle to take care of less power-intensive actions.
Both smartphones absolutely fly, with the processors making easy work of the Android 4 operating system, switching between apps and HD video playback.
As a good way to show off the Galaxy S3's power, look no further than Pop Up Play.
Pop up Play is an icon in the video player, tap this and the video pops out into its own small window that can be dragged around the screen and placed over any other application.
This means you can keep watching the video while answering a text message, or continuing your game of Angry Birds.
While not being a feature that we can see ourselves using often, Pop up Play is a great way of demonstrating how powerful the S3 is, as in tests the phone didn't slow down at all while playing some HD video over the top of other applications.
Both smartphones run Android 4 Ice Cream Sandwich with their own skins over the top. The One X gets HTC's Sense 4.0, and while Sense has never appealed to everyone, we think that this fourth generation of the user interface is the best yet.
The first thing you will notice is the new lock screen, which has been tweaked by HTC to allow you to launch four customisable apps right away.
This is done by dragging the app into the ring at the bottom of the screen and you can put whatever app you want on the lockscreen, customisable through the Settings menu.
Launching into the main interface, you get a choice of seven customisable homescreens. On the main homescreen you'll see the now-iconic HTC clock/weather widget, but if this isn't to your taste, it is easy to get rid of, and HTC provides a lot of alternatives for you to chose from.
Overall, Sense 4.0 combined with Android 4.0 is a nice mix. The interface is slick and looks great, with a lot of customisation possible. While standard Android 4.0 may have been prefered by some users, at least HTC seems to be moving in the right direction with its latest version of Sense.
Over in the Galaxy S3 corner, Samsung says that its flagship smartphone is "designed for humans, inspired by nature" - but what that really means is the lock screen ripples and splashes like water when it is touched, the default wallpapers are various scenes of nature and the ringtones are all along the lines of birdsongs, jungle drums and rainfall - fans of a traditional ringing phone may be left disappointed.
The so-called Nature UX extends to the Galaxy S3's alarm clock, which can be set to go off three minutes early with the sound of running water and soft music getting gradually louder as the screen becomes brighter - possibly a gimmick, but it makes a nice change to some phones' nuclear attack-style blaring.
As with the HTC, seven home screens can be created on the Galaxy S3, made up with a combination of apps and widgets.
Samsung has packed the Galaxy S3 with a whole host of useful, time-saving features to help make interacting with the phone easier, such as Direct Call. If you're reading a text message and think it will be easier to call the contact than text back, just lift the phone to your face and the Direct Call feature will call that person immediately.
Smart Alert is another useful feature of the S3, which causes the phone to vibrate when it is picked up for the first time after receiving new, unread notifications.
Finally for the operating systems, Samsung has created its own Siri rival, S-Voice, which understands spoken commands and can act upon them to set reminders, send emails and look up information on the internet.
S-Voice was somewhat hit-and-miss during our time with the S3 and often struggled to understand what we were saying, and took an age to find internet results when it could grasp our instructions.
The system may well improve in time, but right now it's not a rival to Siri and certainly not a reason to pick the Galaxy S3 over any other phone.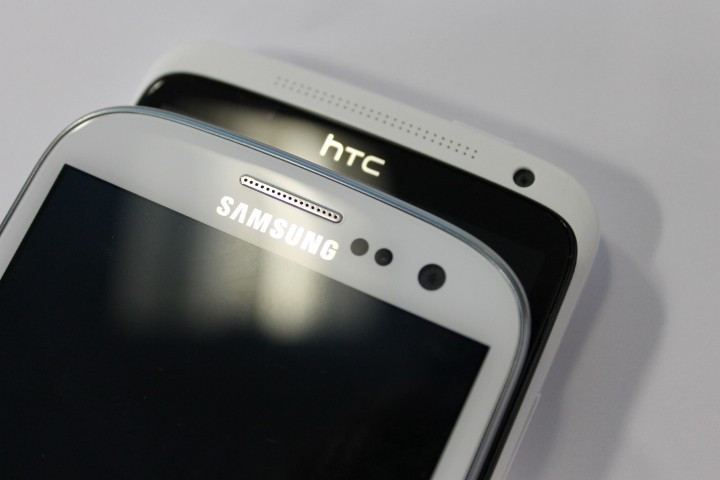 Verdict
Although not all useful on a daily basis, we liked the unique features that Samsung has packed into the S3. Dimming the screen when you're not looking is nice and Pop Up Play is great if you want to write a text message or play a game while watching a film.
HTC One X vs Samsung Galaxy S3: Battery life
Battery life, as with any smartphone containing such large screens and powerful processors, is going to be a compromise. Both the Galaxy S3 and One X manage no more than a single day of average use before needing a recharge.
Turn to more intensive tasks like watching a HD film and gaming, and you'll see the battery expire after not much more than five hours.
We're at a stage in smartphone development where processors and screens have far outmatched battery life, and it may be some time before we see the balance between power and stamina restored, so a nightly recharge is still the norm here.
Having said that, the Galaxy S3's 2,100 mAh battery does have the edge over the One X's 1,800mAh on paper, but in the real world both phones are challenged by more than an average day of use.
HTC One X vs Samsung Galaxy S3: Value
Both smartphones cost around £500 SIM-free and start at about £41 per month on a wide range of contracts, so there's really nothing between them when it comes to price.
One benefit is that the HTC One X has 32GB of storage, whereas the similarly priced Galaxy S3 has just 16GB, but remember that the S3 takes microSD cards to increase that by a further 64GB, and the One X does not.
HTC One X vs Samsung Galaxy S3: Verdict
We recently said that the Apple iPhone 4S is no longer the smartphone benchmark, and we stick by that statement. Both the S3 and One X have shown Apple that bigger is better and that the next iPhone will have to feature a larger screen and a quad-core processor.
As for deciding between the Galaxy S3 and HTC One X, we would have to side with the Samsung.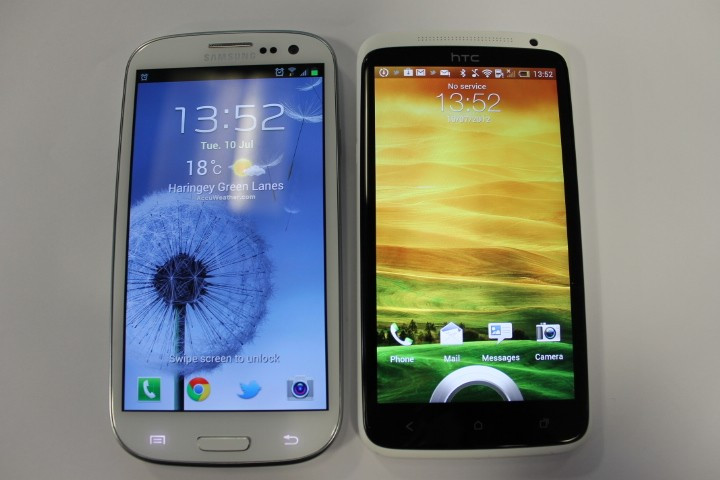 We really don't like the glossy plastic design and fake metal band, but the wealth of innovative and useful features gives Samsung the edge over the competition.
In the real world both phones are equally powerful and the screens are both excellent, so you wouldn't be disappointed with either.
If you're moving from an iPhone and iTunes environment, then the Galaxy S3 would be preferable as Samsung has developedEasy Phone Sync, which transfers iTunes content - such as music, pictures, contacts and messages - to the S3.
Scores:
HTC One X
Overall: 9/10
Battery: 7/10
Design: 10/10
Screen: 10/10
Value: 8/10
Samsung Galaxy S3
Overall 9/10
Battery 7/10
Screen 10/10
Design 8/10
Value 8/10
Camera Sample Shots