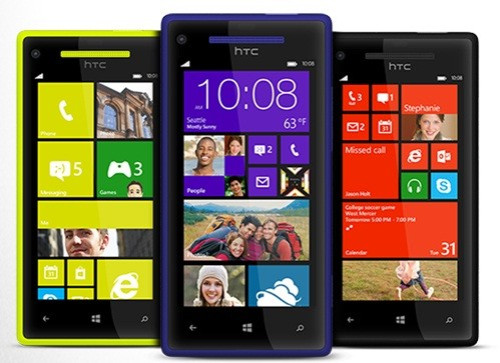 Taiwanese manufacturers HTC have taken a leaf out of Samsung and Nokia's books and unveiled the company's first Windows 8 smartphones - the Windows Phone 8X and 8S. So far, three UK retailers - Clove, Expansys and Unlocked Mobiles - have announced pricing details.
Clove will stock a Sim-free 16GB 8X at £399.98 (including VAT) and the 4GB SIM-free 8S at £224.99 (VAT included). The retailer has not mentioned a particular release date but has blogged stating the first shipment for both handsets is expected sometime in early November. Expansys and Unlocked Mobiles will offer the new smartphones at similar prices; the latter has indicated 5 November as a released date for the 8X model and 15 November for the 8S model.
In terms of colour options, although Clove has listed three - red, black and blue - an addendum warns potential customers the availability of each has yet to be confirmed (for both the 8X and the 8S). Expansys has been more explicit, indicating it will stock units in black (for both the 8X and the 8S).
Meanwhile, HTC has promised the Windows Phone 8X and 8S will be available on more than 150 carriers across 50 countries.
"We have been inspired by Windows Phone 8 to create new smartphones that give the platform the iconic design and personality it deserves. Windows Phone has clearly emerged as one of the top mobile ecosystems and is competitive against any other smartphone platform in the world," said Peter Chou, CEO of HTC Corporation.
The 8X, as the suggested pricings confirm, is the top-end model and will come with a larger screen, a higher resolution, a bigger battery and more memory than the 8S device.
The 8X features a 4.3in Super-LCD2 display. It will be powered by a Qualcomm Snapdragon S4 dual-core 1.5GHz Krait chip with an Adreno 225 graphics unit. The device will have 1GB of RAM. There will be an eight megapixel rear-camera and a two megapixel front-facing camera. The 8X will use an 1800mAh battery. The phone will come with 16GB of internal storage and not have support for microSD cards.
The HTC 8S will feature a 4in Super-LCD display. The device will offer only 4GB of internal storage but will support microSD cards. It will use a similar chipset to the 8X but will run at a slightly slower clock speed of 1GHz. Furthermore, the 8S has less RAM compared to the 8X - 512MB. The HTC 8S will features a five megapixel rear-camera. It will run on a 1700mAh battery.