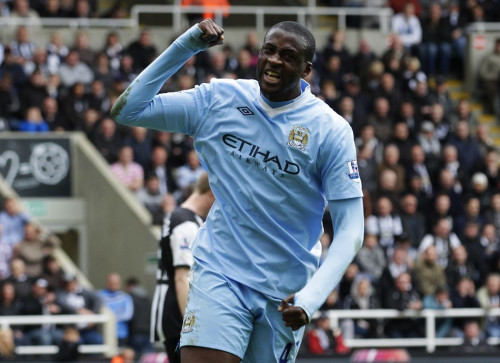 Yaya Toure has alerted Manchester City officials after claiming that he would be open to a move to Paris Saint Germain in the future.
The 30-year-old midfielder has been a pivotal player for Manuel Pellegrini during the first half of the season, scoring 11 goals and grabbing four assists.
The Ivorian international is enjoying his best season since he moved to the Etihad from Barcelona in 2010 and after signing a new deal with his current club last April until 2017 it appeared the midfielder had ended speculation regarding his future.
However, rumours have resurfaced after the Ivorian International's latest quotes in an interview with French Radio Station RMC Sport. Asked about a potential switch to the Ligue 1 champions he said: "Everything can be possible. Why not?"
"In life, you never know. Everything is going well right now at City, but one never knows. When you have great teams like this, where there are already great players, it attracts.
"To be part of an adventure like this, a group like this, it is exceptional. Me, working with great players, it is always my goal. It allows you to improve and learn many things. In football, you never stop learning. For me, the PSG is a great club."
Paris Saint Germain are willing to make another massive investment this summer and Toure's quotes may tempt them into considering a bid for the City star.
The French side conquered Ligue 1 last season, and their next dream is to win the Champions League. Toure believes that Real Madrid are the competition's favourites but claims that Laurent Blanc's side are going to be one of the biggest European contenders for City, should they beat Barcelona in the last-16.
"For me, PSG are scary. I have great respect for them too. It's a big team. They are a bit like the Man City of France. They have the financial power which enables them to buy great players.
"And they prove that they are in the league above. To be honest, PSG scares me anyway.
"Bayern are a good team. PSG, with what they did at Camp Nou last year, showed that they could be challengers," Toure added.
Nevertheless, when asked who is the real one favourite to win the Champions League he said: "I see Real Madrid too. It will be tight. But I would say Real."