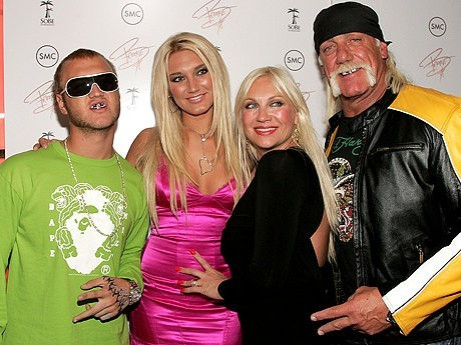 Hulk Hogan is at the centre of a Twitter storm after sharing a snap revealing his daughter's bare legs.
The former wrestler, born Terry Gene Bollea, was accused of being a pervert after uploading the revealing image of Brooke wearing tiny shorts on to the microblogging site along with the caption, "Brooke's legs".
But while the proud father said there was nothing wrong with sharing the picture of his daughter's legs, some Twitter users accused him of being creepy.
One said: "I wouldn't dream of taking a photo like that of my daughter, no matter what her age, and then posting it anywhere. The posting of the photo is what adds the weird, something's-not-quite-right element. Yes, there is something very off about this."
Hogan, 59, said he was only showing off his daughter's efforts to look after her body.
He told his 500,000 Twitter followers: "Brooke works out for two hours a day, a fan takes a picture, Brooke love it, tweets back thank u, proud dad tweets it, creeps and perverts everywhere.
His daughter came to his defences tweeting: "A dad can't even be proud of his daughter without sickos making it something it's not. Really? Go back to your farm animals. ‪#ignorant"
In 2008, pictures of the WWF star rubbing sun lotion into her upper thighs sparked a similar controversy.