Shanghai SIPG forward Hulk says he persuaded Oscar to swap Chelsea for China. The Brazilian midfielder, who scored on his debut for the Chinese Super League outfit in a 2-1 friendly win over Saudi Arabian side Al-Batin, swapped Stamford Bridge for Shanghai in a £60m (€69m) deal that could see him earn up to £500,000 a week.
Hulk, who joined Shanghai from Zenit St Petersburg for around £43m in June, said he told Oscar about the city and club before he made his decision. The powerful winger was also quick to play down the idea that the eye-watering sums of money spent on himself, Oscar and fellow Brazilian Elkeson will put extra pressure on them.
"I talked to Oscar about Shanghai SIPG before he made the move," Hulk told Sky Sports. "I said to him that Shanghai is a beautiful city, the club is fantastic and we will get even better in the coming years. I also said our teammates are very friendly and welcoming, which makes me feel pretty good. After hearing what I told him, he came."
"We have grown accustomed to playing under huge pressure, no matter how much the club has spent on players," Hulk added. "Oscar, Elkeson and I are used to it. This is not a problem. Each new player is coming to help the team and I believe Oscar will help us a lot. The level of the team has improved a lot, obviously, and I think we will win the title next season."
Oscar had fallen out of favour at Chelsea in recent months; he made just five starts in the Premier League under Antonio Conte – the last of which came in September's defeat by Liverpool – and had not featured for the Blues since November. Though his spell in London petered out somewhat, the 25-year-old did win the Premier League, Europa League and League Cup during his time with the club.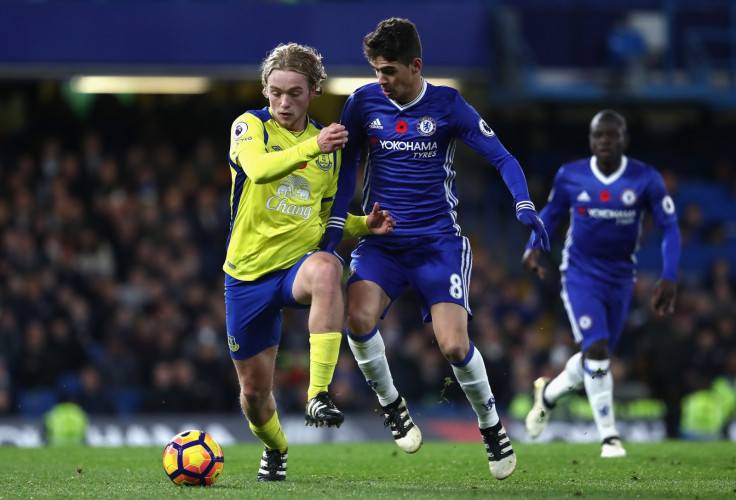 It remains to be seen if Chelsea conduct any serious business with the funds from Oscar's sale this month, but they did recall young defender Nathan Ake after he impressed on loan at Bournemouth. The Dutchman, who spent last season on loan at Watford, stated his desire to break into Conte's first team.
"The ambition now is to continue to improve and break into the team at Chelsea," Ake told Bournemouth's official website. "It's a great team and the manager there has given me a lot of confidence, so it's something I'm looking forward to."