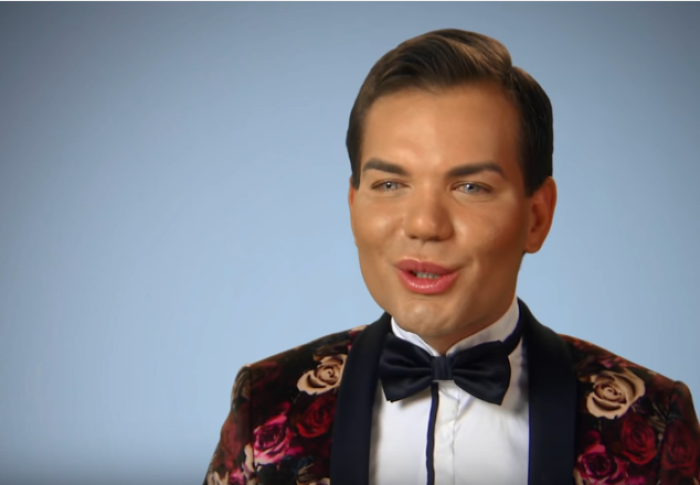 Reality star Rodrigo Alves, who is better known as "human Ken doll", is believed to have added another procedure to his long list of surgeries in order to transform his looks. Alves was pictured on the streets of London sporting a painful-looking red face after his recent procedure. This time, the surgery-addict reportedly had his beard lasered off.
The photographs published by The Sun showed the Brazilian star braving a smile despite the bright red marks and rashes around his chin and upper-lip region.
Undoubtedly his face revealed remarkable transformations as Alves posed along with a group of friends that included former Apprentice contestant Selina Waterman-Smith and Big Brother star Chelsea Singh.
For Alves, who has gone under the knife several times in the past to achieve the perfect look, such procedures are not something to be ashamed about. In fact, the 33-year-old wishes credit for his courage and bravery.
"I've put myself through so much plastic surgery and so much pain and I wish people would give me more credit for my courage, my bravery. I don't get upset now, I'm a tough cookie," said the Brazil native whose fascination for cosmetic procedures was due to his teenage years of being beaten and bullied.
At the age of 17, Alves underwent his first surgery to remove breasts that were a result of a hormone dysfunction. Since then, the TV star has had seven nose jobs, a butt lift, silicone chest implants, eight pack abs and hair implants in his bid to appear perfect, according to reports.
And such correction treatments do not come cheap either. Alves has allegedly spent £360,000 till date on these surgeries that include £10,000 butt lift, £24,000 worth chest implants and further £48,000 on his eight-pack abs. But the recurring problem seems to be his nose, for which he has already gone under the knife a number of times.
"I didn't want to have seven nose jobs for the sake of having them. It is painful, it is risky, it is expensive," Alves said. "My last surgery on my nose was in July and now my nose is closing up again and I'm going back to having the same breathing issue."
While the socialite, who has earned himself the title of "human Ken doll" because of the resemblance with the popular toy, doesn't mind the name; he thinks it's "quite risky" going through the procedures.
"It's a vicious circle, one thing just led to another," Alves quipped.