Meet Rodrigo Alves, 30, who has splashed £125,000 to undergo 21 cosmetic procedures to transform him into a human version of the Ken doll.
Alves started the cosmetic procedures at the age of 20 and has spent an estimated £8,000 on botox and fillers, £30,000 on three nose jobs, £3,000 on liposuction to his jaw and £10,000 on pec implants.
Other procedures, include a fake six-pack costing £22,000, £7,000 on fillers to his arms, £7,000 on hospital bills, £7,000 on laser lipo, £6,000 on leg lipo and £3,000 on calf shaping.
To maintain his Ken doll-like physical persona, Alves has to take a daily cocktail of pills, including collagen tablets, anti-water retention and hair growth tablets.
Alves strives to be like Barbie's boyfriend Ken whom he calls an "ideal man"
"I just want to present myself in a way I have always wanted to. Cosmetic surgery has really changed my life, it was a positive makeover for me. If it wasn't for cosmetic surgery then I wouldn't be the man I am today. I'm not trying to reach perfection, I'm just trying to be the best that my body allows me to be," said Alves.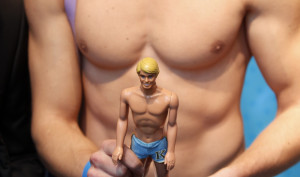 Alves has even attempted to find a fix to baldness by undergoing his recent 21<sup>st cosmetic procedure, where doctors injected stem cells into the flight attendant's scalp making him the first person in the UK to have stem cell hair treatment.
The £5,100 stem cell procedure in Miami started with doctors performing liposuction on Alves' back to extract fat cells. Next they took 500ml of his blood and blended the liquid with his fat cells in a machine, and injected the mixture in his scalp.
Alves has faced several obstacles as he strives for near perfect looks.
While undergoing a treatment to look more muscular, a Brazilian doctor injected a gel into Alves' arms that left him near paralysed and unable to feed or bathe himself. His recovery took three weeks.
"I am constantly researching for the best treatments and cosmetic procedures that can make me look better and stop the ageing process. Thankfully we live in a very modern high-tech society and I believe that now science meet technology and both meet beauty which can be beneficial to many people. It is a constant maintenance process," said Alves.