Hundreds of chefs from around the world – all wearing their chef whites – gathered in Lyon to pay their final respects to legendary French chef Paul Bocuse, often referred to as the "Pope of French cuisine". The master chef who defined French cuisine for more than half a century, died aged 91 on 20 January.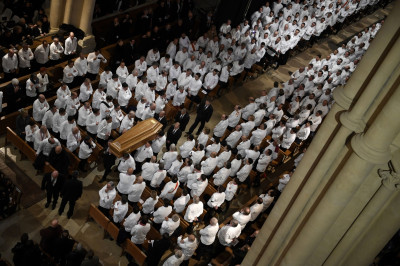 Bocuse's temple to French gastronomy, L'Auberge du Pont de Collonges, in the town near Lyon where he was born, has held three stars — without interruption — since 1965 in the Michelin guide, the bible of gastronomes.
Among the chefs assembled to see him off were fellow legends Alain Ducasse, who currently holds 21 Michelin stars, Joël Robuchon, who has 28, and US chef Thomas Keller, whose Napa Valley restaurant The French Laundry regularly tops the annual Restaurant Magazine list of the Top 50 Restaurants of the World.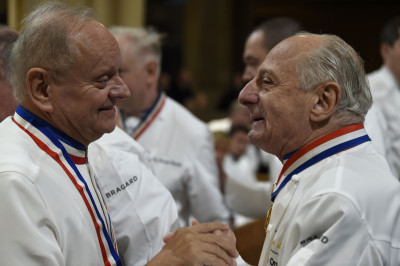 Born into a family of cooks that he dated to the 1700s, Bocuse stood guard over the kitchen of his world-famous restaurant even in retirement. In a 2011 interview with The Associated Press, Bocuse said he slept in the room where he was born above the dining rooms. "But I changed the sheets," he added with characteristic wry humour.
Born on 11 February 1926, Bocuse entered his first apprenticeship at 16. He worked at the famed La Mere Brazier in Lyon, then spent eight years with one of his culinary idols, Fernand Point, whose cooking was a precursor to France's nouvelle cuisine movement, with lighter sauces and lightly cooked fresh vegetables.
Bocuse's gastronomic offerings were rooted in the French culinary tradition: simple, authentic food that was "identifiable" in its nature. Emblematic of that was a crock of truffle soup topped with a golden bubble of pastry he created in 1975 for then-French President Valery Giscard d'Estaing, which is served at L'Auberge to this day.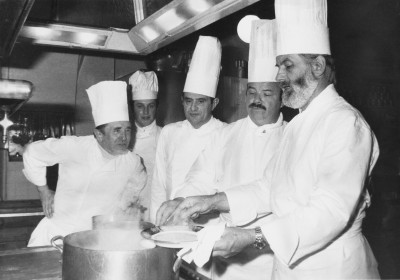 While Bocuse's kitchens were meticulously in order, his personal life was on the unorthodox side. He acknowledged in a 2005 biography that he had been quietly sharing his life with three women — simultaneously — each with a pivotal role in his life. "I think cuisine and sex have lots of common points," Bocuse said before publication of "Paul Bocuse: The Sacred Fire." "Even if it seems a bit macho, I love women."
He is survived by his wife Raymonde, their daughter Francoise and son and fellow chef, Jerome.