Parts of the US are bracing for an extremely wet and windy Independence Day as Hurricane Arthur strengthens into a hurricane.
Arthur is currently centred over the Bahamas and the National Hurricane Centre has issued a Hurricane Watch for Bogue Inlet to Oregon Inlet, North Carolina and Pamlico Sound.
Heavy rain is expected to affect the coastline of these areas over the next few days, including 4 July. The NHC confirmed Arthur had become a hurricane today (3 July).
"Arthur is now a hurricane ... expected to move near the North Carolina outer banks tonight," it said.
Explaining where the hurricane will hit, Nasa said: "In addition, a Tropical Storm Watch is in effect for the east coast of Florida from Sebastian Inlet to Flagler Beach, South Santee River South Carolina to south of Bogue Inlet, North Carolina, north of Oregon Inlet, North Carolina to the North Carolina/Virginia Border, and the Eastern Albemarle Sound."
The space agency's satellite showed that there is currently very heavy rainfall around Arthur's centre, with the heaviest rate seeing two inches per hour. It also showed powerful thunderstorms reaching heights of 15.5km/h and sustained winds of about 75km/h.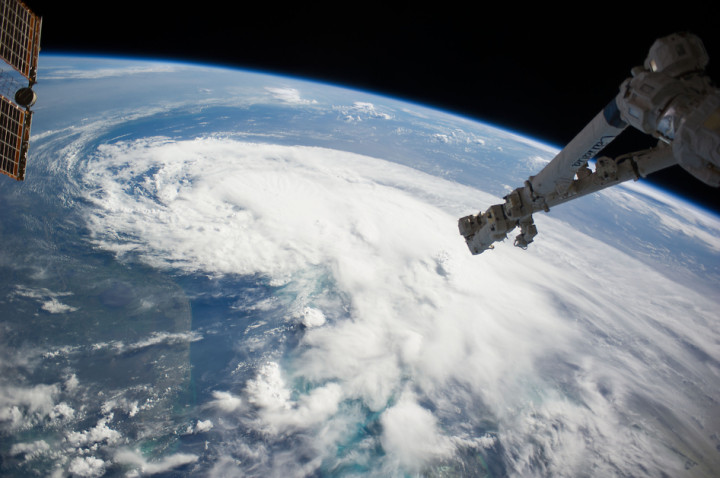 At present, Arthur is about 160km east-northeast of Cape Canaveral in Florida. It is 445km south of Charleston, South Carolina, 545km southwest of Cape Hatteras in North Carolina and 305km from Cape Fear.
Arthur was moving north at a speed of about 9km/h and turned northeast last night (2 July).
The NHC reported last night "that Arthur is expected to move east of the east-central coast of Florida today, July 2, pass east of Northeastern Florida tonight, move parallel to the coast of South Carolina on Thursday July 3, and approach the hurricane watch area Thursday night."
NHC issued a full public advisory of the areas expected to be affected, which can be read below.
The hurricane warning has been extended northward from Duck, North Carolina to the North Carolina/Virginia border.
A hurricane warning is in effect for:
Surf City, North Carolina to the North Carolina/Virginia border
Pamlico Sound
Eastern Albemarle Sound
A hurricane watch is in effect for Little River Inlet to South of Surf City
A tropical storm warning is in effect for:
South Santee River, South Carolina to south of Surf City
The North Carolina/Virginia Border to Cape Charles Light Virginia including the mouth of the Chesapeake Bay
Western Albemarle Sound