New Yorkers were treated to a spectacular light show as a summer storm rolled in over the city. Bolts of lightning illuminated the sky above Manhattan, snaking around the Empire State Building and hitting One World Trade Center.
A section of the facade inside an underpass of the Brooklyn Bridge collapsed during the thunderstorm, injuring five people. A fire department spokesman said the collapse involved a section roughly 25 feet (7.6 metres) wide. All of the injuries were minor.
Once the thunderstorm had passed, residents flocked to Brooklyn to photograph a beautiful sunset turning the sky behind the skyscrapers orange and purple.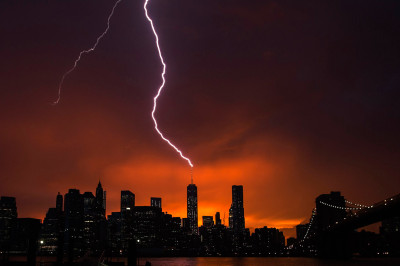 Further storms are forecast as one of the year's busiest travel weekends approaches. Tropical Storm Arthur is expected to grow into a hurricane by the Fourth of July and hit most harshly at North Carolina's Outer Banks, a popular getaway spot of thin barrier islands along the shore.
The first named storm of the Atlantic hurricane season prompted a hurricane warning for a wide swathe of the North Carolina coast and spurred authorities to order a mandatory evacuation for visitors to the Outer Banks' Hatteras Island. Residents also were advised to leave the island. A voluntary evacuation was announced for the Outer Banks' Ocracoke Island, accessible only by ferry.
By early Thursday, the storm was about 140 miles (230 kilometres) south-southeast of Charleston, South Carolina. It was moving north about 8 mph (13 kph) with maximum sustained winds of 70 mph (110 kph). The US National Hurricane Centre predicted it would grow to a Category 1 hurricane with sustained winds of at least 74 mph some time on Thursday.