The 800mph Hyperloop train dreamt up by Elon Musk has taken a step closer to reality, as a company is founded with the goal of producing working prototypes in 2015.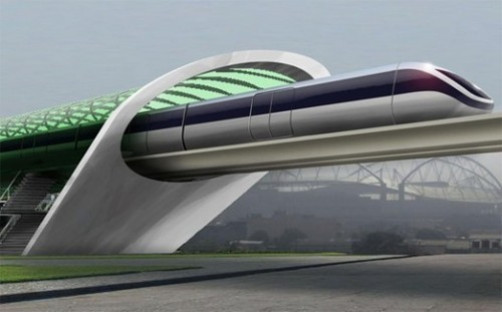 Presented as a 54-page document by Musk earlier this year, Hyperloop is claimed to be able to travel 300 miles between Los Angeles and San Francisco in just 30 minutes, briefly traveling faster than the speed of sound.
Called Hyperloop Transportation Technologies (HTT), the new private company is headed by Patricia Galloway, who was the first female president of the American Society of Civil Engineers and a former member of the US National Science Board. Galloway's CV includes work on the Crossrail Project in London and a $6 billion (£3.8bn) expansion of the Panama Canal.
Read More: Hyperloop Revealed: How Elon Musk Plans to Revolutionise the Railway
Speaking to Fox News, Galloway says the project is much closer to reality than its sci-fi name and record-breaking speed suggest. "The feasibility is done. What we're working on now is moving toward conceptual design," she said.
HTT says it will publish an updated white paper in March explaining how to build a prototype, and hopes to show off fully-functional Hyperloop prototypes by the end of 2015.
Joining Galloway is Marco Villa, former director of mission operations at SpaceX, the rocket manufacturer and space transport company run by Elon Musk. Villa told NBC: "Our goal is by the end of 2015 [to have] one or more prototypes available."
Talking about Musk's initial plans, Villa said: "We couldn't identify anything that cannot be solved or cannot be tackled. We really look forward to start asking the tough questions."
Musk himself admitted after publishing the white paper he is too busy running electric car company Tesla and SpaceX to work on Hyperloop.
An affordable Concorde
Galloway said Hyperloop is "similar to what the Concorde did for air transport. This will revolutionise how we transport people from city to city."
But the high prices which contributed to Concorde's retirement 10 years ago will not be a problem for Hyperloop. In his white paper published in August, Musk claims a one-way ticket will cost just $20 (£12.50). To recoup the estimated $6bn construction cost Musk says capsules each containing up to 28 passengers would depart in both directions every 30 seconds, and the system would be self-sustaining thanks to solar panels on its 300-mile long roof.
Funding
However, where Concorde was funded by the British and French governments, Hyperloop will need to source its own cash from venture capitalists and other private sources. The US government is already planning its own 130mph railway for the same Los Angeles to San Francisco route, at an estimated cost of $60bn.
HTT has recruited help from various companies, including manufacturing and design firm GloCal Network Corporation, the Architecture and Urban Design graduate programme from University of Los Angeles, and engineering simulation company ANSYS, which has already tested a virtual Hyperloop concept.
Musk has laid the foundations for Hyperloop, but huge funding will be needed just to build the first prototypes. Dirk Ahlborn of crowdsourcing website JumpStartFund, where HTT has a page looking for ideas from the general public, said: "Several engineering companies have contacted use and said 'we have done our preliminary reviews and this seems completely doable and we don't see any issues'."
Fox News reports these engineering companies "also hinted that larger investors were interested in the project."