Just before the presidential election, I took my Donald Trump lookalike to Trump Tower in a motorcade with protesting women carrying banners reading: "I am not a Slut', 'Get off my pussy', shouting 'Respect us'. As I was standing on the pavement watching the massive crowd grow, a small girl with her mother stopped in front of me to observe the unfolding scene. After a moment the little girl asked her mother "why are all those girls shouting and holding those banners?", her mother said "this is America, land of freedom, those women have the right and must say what they think because they are free to do so – one day you will understand".
This is why I do what I do without fear. As an artist, my work can change someone's emotional and intellectual perception of reality, questioning the standardisation of our world.
I started the protest with just five women wanting to come, and ended with hundreds. Women who represented all corners of the world wanted to say something about the potential new president. It caused traffic-stopping flash mobs.
I had the Trump-a-like in an open-top Bentley as part of a presidential motorcade. Huge crowds started to gather round, shouting and running across streets and 5<sup>th avenue, before we even made it to Trump Tower.
The police tried to stop us a number of times, but ended up escorting us to avoid the fast growing flash mobs getting out of hand. There was more of a fear factor with this one. In the early hours of the morning I was in a deep sweat of fear and almost cancelled the whole thing last minute – but I'm glad I went through with it because my work was helping people express emotions that they felt unable to express.
My work is often seen as controversial. But this is the the first time my lawyers have warned me against making it. This is the first time I could actually be sued, and it could be by the next President of the United States.
For years I have been photographing lookalikes of celebrities and public figures, creating topical scenes that blur the lines between fiction and reality. Having created pieces that feature a whole host of well-known lookalikes, from the royals to the Kardashians, it never occurred to me that I wouldn't – or shouldn't – make photos spoofing Donald Trump. If anything, I feel like it's exactly what I need to be doing.
Donald Trump has been at the centre of an almighty media storm. It isn't something I can just ignore. I want to capture and comment on some of the main issues to come out of his divisive campaign: the stories we've all been talking about.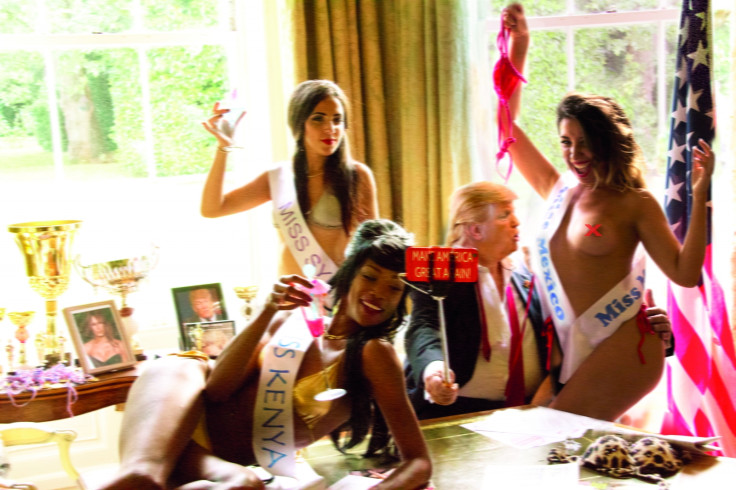 But it seems my lawyers aren't the only ones to be cautious. Publishers and newspapers who I have worked with throughout my career have turned down some of my riskier images for fear of litigation.
I knew that if I wanted to get the rest of my work out there I'd have to do it on my own. So I decided to self-publish my 'Trump' series in a book, in a new collection called Private, which also features plenty of photos of other familiar faces. As my statement in the book explains, my work is not about targeting or mocking certain individuals.
Regardless of what people may think of the work, there's a common feeling that we cannot allow the curtailing of artistic freedom.
It's about our society's relationship with the media and how we consume information through the unreliable and voyeuristic medium of photography. Provoking questions is more important to me than provoking reactions – although the two often go hand in hand. It is about how the media create celebrities and public figures who command our world.
Publishing staged photographs of 'Donald Trump' using a lookalike is asking the viewer to question whether this scene could happen or not. This is exactly what I am asking in the KKK picture with 'Donald Trump' (this is John Smith not Donald Trump) but in your mind you think it is really him for a split second – you can't rely on your own perception when it comes to photography.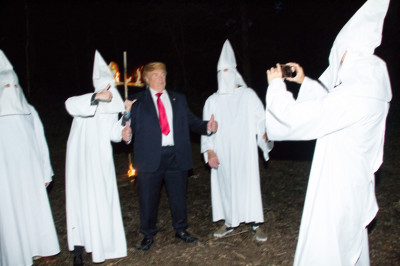 The photos and book have already received a lot of support from the public. I am receiving thousands of emails from people saying 'keep up the good work', 'don't give up' and offers of help – free legal advice, artistic commissions and distribution of my photographs. Regardless of what people may think of the work, there's a common feeling that we cannot allow the curtailing of artistic freedom.
The fact that Donald Trump may not like my photographs doesn't surprise me in the slightest. It's the fact that he could potentially take legal action to prevent artists like me from working, which is deeply disturbing.
Whether it's the threat of a lawsuit or a late-night tweet, Trump has repeatedly expressed his objections to any form of critique. On a recent SNL sketch he tweeted: "Just tried watching Saturday Night Live – unwatchable! Totally biased, not funny and the Baldwin impersonation just can't get any worse. Sad."
We like to think that we're living in a free and progressive society, but for how much longer? It's hard to believe that we may be returning to a world of state censorship and artistic suppression. That truly is sad.
---
Alison Jackson is a BAFTA and multi award winning contemporary artist who explores the cult of celebrity. Her new book Private is out now
---