British artist Alison Jackson has launched a series of spoof photos using models who bare a striking resemblance to US President-elect Donald Trump. The provocative snaps show the incoming president in a number of compromising positions, from partying in the Oval Office with scantily clad models to posing with the KKK.
Jackson said she decided to self-publish the photographs as a protest against the potentially negative effect Trump could have on artistic freedom. The 46-year-old artist told The Guardian that she was warned by her attorneys against publishing the images and said no book publisher was willing to publish the collection.
"It is a little frightening. Nobody wants to end up in litigation with the president. But I find it outrageous that artists should be under threat from a president in the US," Jackson said in her interview.
"I wanted to publish photos that I wanted to shoot but it's very difficult to get other publishers to publish a work if they feel any type of threat or if they are worried in any shape or form. I don't even think it's a question of taste ... It's legal."
The self-published book, titled Private, was released at the end of October. Jackson's work, including spoof photographs of the Royal family, the Clintons and Kanye West, had previously been published as coffee table editions by Penguin.
Jackson said she was outraged when fellow artist Illma Gore received death threats after her painting featuring a naked Trump with a small penis went viral. The LA-based artist was also threatened with legal action by an anonymous filing under the Digital Millennium Copyright Act in the US if she sold the image.
"Of course I'm worried about being sued," Jackson said. "It is horrifying to find out that you could be sued by a president. But that is better than not being able to work."
The photos shared with IBTimes UK show a series of explicit images involving the Trump lookalike. A number of the photos show him in compromising positions with Miss Mexico and other models while in the Oval Office. One photo has him standing naked in a tent as he gets his signature spray tan.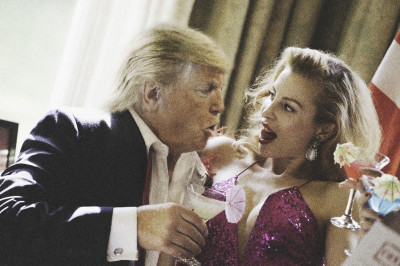 "If we start compromising artistic freedom, that's not a happy place," Jackson said. "Whether it's artists or cartoonists or satirists, there has to be free and radical thinking. Without that we get into the realms of dictatorship."
If Trump does criticise Jackson's work, it will not be the first time he has expressed frustration over artistic representations of himself. The president-elect has repeatedly blasted comedy show Saturday Night Live and actor Alec Baldwin for their sketches against him. The show recently aired a segment featuring Baldwin as Trump tweeting teens and others while in a security briefing.
The sketch ironically led Trump to fire back at SNL on Twitter. "Just tried watching Saturday Night Live- unwatchable! Totally biased, not funny and the Baldwin impersonation just can't get any worse. Sad," he wrote. Baldwin responded that he would stop impersonating him if he released his tax returns.