Android's share of the smartphone market shows no signs of slowing, as the Google operating system powered 79.3% of the 236 million smartphones shipped globally in the last three months.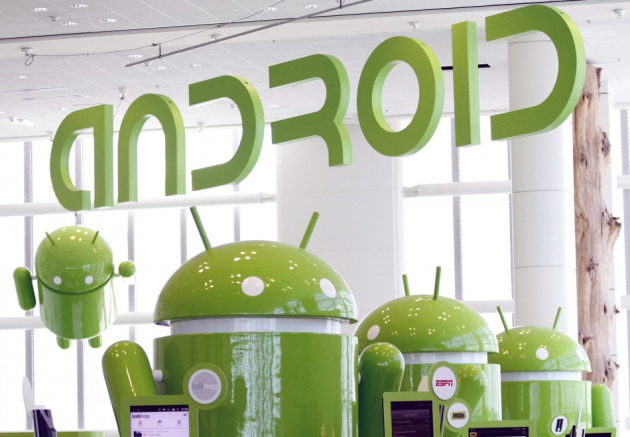 Google's open source Android software is continuing to hoover up huge slices of the smartphone market as iOS growth slows, Windows Phone makes small gains and BlackBerry continues what looks like a terminal decline.
According to data released by research firm IDC the smartphone market grew 50% year-on-year with 236.4 million devices shipping in the three months to the end of June with Android and Windows Phone the only operating systems increasing their market share in that period.
According to the research 187.4 million Android smartphones were shipped in the last quarter, an increase of 73.5% compared to the same period last year. It now commands 79.3% of the smartphone market globally, up from less than 70% this time last year.
Apple's iOS remains in second place with 31.2 million shipments, but the iPhone-maker's share of the market has fallen from 16.6% a year ago to 13.2%. The drop in the second quarter is likely down to consumers opting to wait for the iPhone 5S and budget iPhone, both of which are due to be launched in the coming months.
"The iOS decline in the second quarter aligns with the cyclicality of iPhone," IDC research manager Ramon Llamas said. "Without a new product launch since the debut of the iPhone 5 nearly a year ago, Apple's market share was vulnerable to product launches from the competition.
"But with a new iPhone and revamped iOS coming out later this year, Apple is well-positioned to re-capture market share."
Windows Phone growth
Available on a growing range of Nokia and HTC devices, Microsoft's Windows Phone 8 operating system was launched late last year and has continued to make third place its own, while BlackBerry continues to fall.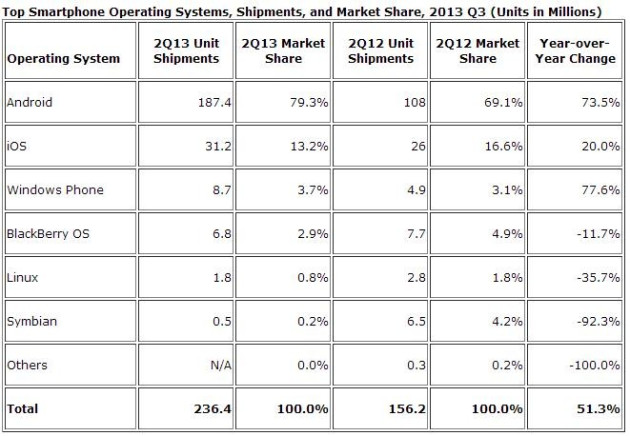 IDC estimates 8.7 million Windows Phone smartphones were shipped in the second quarter, up 77.6% from last year and giving Microsoft a 3.7% slice of the market.
Meanwhile, BlackBerry's extensive rebranding exercise is still failing to win back customers, as the Canadian company's share of the market fell from 4.9% last year to just 2.9%, despite the launch of three new products since January. Of the top four operating systems, BlackBerry was the only one to see a decline of shipments from last year to this, down nearly 12%.
Driving force
Ryan Reith, program manager of IDC's Mobility Tracker Programs, said: "Last quarter we witnessed Windows Phone shipments surpassing BlackBerry and the trend has continued into the second quarter.
"Nokia has clearly been the driving force behind the Windows Phone platform and we expect that to continue. However, as more and more vendors enter the smartphone market using the Android platform, we expect Windows Phone to become a more attractive differentiator in this very competitive market segment."
Nokia's wide range of Lumia devices was responsible for 81.6% of all Windows Phone device shipments in the second quarter, followed by Samsung with 11.5%, HTC with 4.6% and Huawei with 2.3%.
As for Android smartphone shipments by manufacturer, Samsung retains the top spot, with 73.3 million shipments accounting for a 39.1% of the global Android market, down from 44.4% last year.
LG took second place with a 6.5% share and 12.1 million sales, up more than 100% on the same period last year; Lenovo took third place with 6.1% and Chinese manufacturers Huawei and ZTE took joint fourth place, with 10.2 million shipments and a 5.4% share of the market each.