Max Holloway is enjoying playing the role of bad guy as he gets set to face featherweight champion Jose Aldo at UFC 212 in Rio de Janerio, Brazil.
Holloway won the interim featherweight belt at UFC 206 after defeating Anthony Pettis and will attempt to unify the belts when he takes on the Brazilian in enemy territory on 3 June.
The Hawaiian, who is on a 10-fight winning streak, acknowledges that he will be seen as the bad guy in Brazil, both in the buildup and the actual fight, and is embracing the role.
"It would be stupid to think I wouldn't be the bad guy coming to the fight," Holloway said at the UFC 212 press conference, as quoted on MMAFighting. "I'm the bad guy, and I'm embracing the role. He's got to do his job. Show up June 3, and let's get it done."
"Blessed" has not been one to shy away from giving his opinion. After his victory over Pettis, he called out Aldo saying "that m**********r is always getting hurt and pulling out." Holloway believes that the "drama" is what helps make superstars even if he is not a fan of it.
"Superheroes got dark sides now," he added. "Everyone wants drama. Everyone is living for drama. You know? You either grow with this sport or you get left behind. It's sad, but it is what it is."
"You gotta keep up with this sport. If you want to be a superstar and make a lot of money, this is what you do. Some people take it a little overboard, but its always fun poking at people and seeing how they react.
"It's good and bad for the sport, but us athletes, we're trying to get our money and trying to get paid."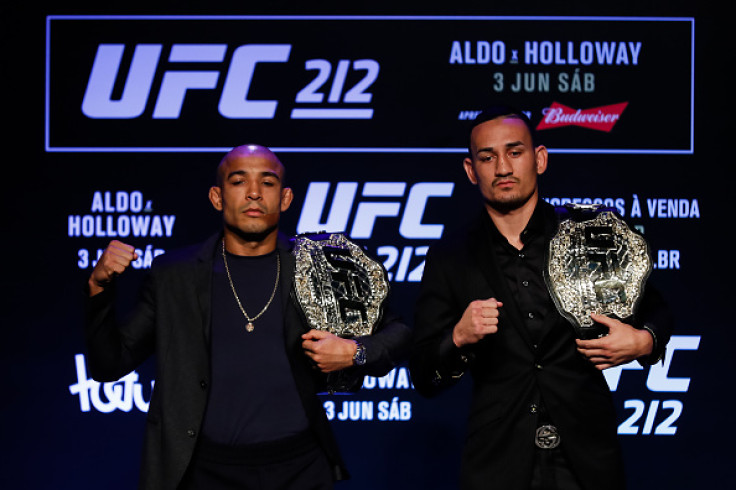 Holloway added to the "drama" by handing Aldo a football during the UFC 212 press conference. His reasoning was that he was going to retire the former footballer.
"I came with a soccer ball because the old boy said he wants to go ahead and play soccer after he's done fighting," he explained. "Us Hawaiians, we like to give gifts, and this gift is for him."
"He's going into retirement. It's right here. He can have the ball, and we can get this fight going."