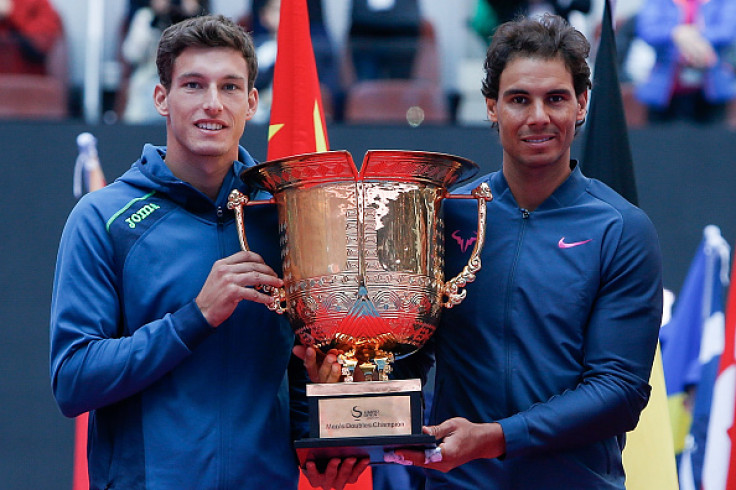 Spain's youngest top-100 player Pablo Carreno Busta has admitted that it is 'impossible' to find another Rafael Nadal.
The 14-time Grand Slam champion has been the torch bearer for Spanish tennis over the last decade. There have been few from the European nation that have threatened to reach the levels he has achieved since his arrival at the top of the world rankings. Nadal has amassed titles on all surfaces while especially dominating on clay winning 49 titles thus far on his favourite surface.
David Ferrer has been the only Spaniard to break into the top-10 in recent years, but lack of form in the last couple of years has seen him drop out of the top-20. Carreno Busta is the youngest player at 25 in the top-100 for Spain, with a ranking of 30 on the ATP Tour. Roberto Bautista Agut and Alberto Ramos are ranked 14 and 27, respectively but are three years older than their compatriot.
The 25-year-old, Carreno Busta, admits that while it is impossible to find another player like Nadal, the younger generation coming through like Nick Kyrgios, Dominic Thiem and Milos Raonic will want to take the Spaniard's place in the top echelons of the men's game.
"It's impossibile to find another Nadal," Carreno Busta said, as quoted by tennisworld.org
"He had an unbelievable career. But it Rafa leaves top 10 or retires, there will be people who will want to be at the places where he was. We are seeing a generational change.
"There are young players. At the ATP Finals we saw two or three new faces and instead before they were always the same," he explained.
Nadal has also dropped down in the rankings after an injury plagued 2016 season and is currently ranked number nine in the world. The Spanish tennis legend cut his season short after the Shanghai Masters in October and is set to make a comeback at the Mubadala World Tennis Championships at the end of December. He has made it clear that his two main goals are to be happy and get back to winning titles.