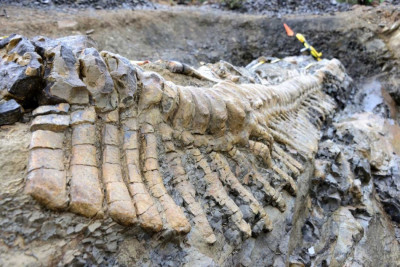 A team of palaeontologists from the National Institute of Anthropology and History (INAH) and the National Autonomous University of Mexico (UNAM) have discovered the remains of a 72 million years old tail of dinosaur in a desert in Northern Mexico.
Fifty vertebrae of the five-meter-long fossilised tail were unearthed intact. Analysing the vertebrae, scientists identified that it was hadrosaur or duckbill dinosaur's tail, according to INAH's excavation director Felisa Aguilar.
The discovery marks the first such find in Mexico.
Click on Start to view the photos from excavation. A video below shows the five-meter long tail of dinosaur at the excavation site in Mexico (Source: INAH):