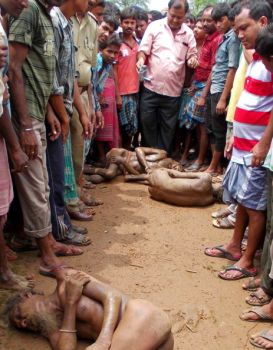 A seven-year-old girl has been found hanging from a tree in a village in eastern India.
The victim, from East Midnapore district, West Bengal state, is believed to have been raped before she was killed.
The girl had gone missing close to her home around 5 pm on Wednesday, after she had gone out to buy some food for herself.
Her disappearance prompted her family and the police to search for her. It was initially thought she might have fallen into a pond.
"We couldn't find the girl since last evening... Then this morning around 9.30, we were on our way out and found the girl hanging from a neem tree," an unnamed villager told NDTV news channel.
According to the police report, after finding the girl's body, some angry villagers attacked three men they accused of kidnapping, raping and murdering the girl.
Local media said one of the three men died due to the injuries he sustained during the attack.
"The situation in the local area where the incident happened is tense," sub-inspector Shankar Das told AFP by phone. He added the villagers were demanding the suspects be hanged.
Police are waiting for the post-mortem report to confirm whether the girl had been raped.
According to the Times of India, the victim's family and one of the suspects are neighbours and have a long-running feud over land.
The incident in East Midnapore occurred one month after four girls were raped and hung from trees in Uttar Pradesh in June.
According to government crime statistics one rape is reported every 21 minutes in India.