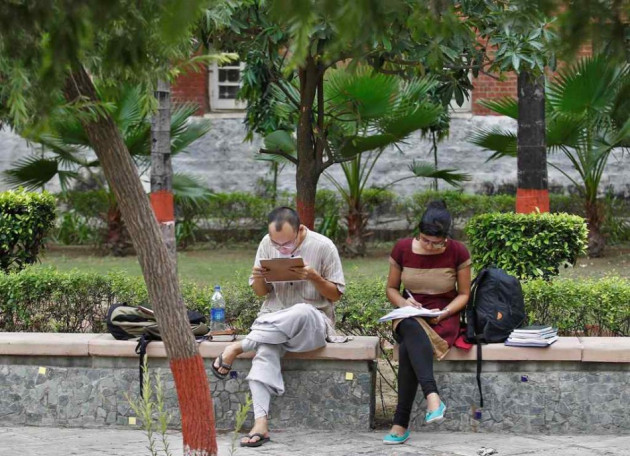 Policy makers in New Delhi are busy preparing the ground to attract foreign colleges to open their own campuses in India, in a bid to improve the quality of education imparted to young Indians.
However, the proposed rules intend to shut-out profit-seeking universities and this could be a major deterrent to top universities eyeing India.
India's working-age population is expected to peak around 2035, by which time some 300 million youngsters -- a number comparable to roughly the entire population of the US -- would have joined the workforce.
The government is looking to enact a law, stuck in Parliament since 2010, that will allow foreign colleges to build their own campuses on Indian soil, reported Reuters.
The move is expected to drastically improve the standard of undergraduate and postgraduate education in India -none of India's universities figure in the list of the world's top 200, the 2013/14 poll by the London-based education group Quacquarelli Symonds revealed.
By comparison, seven from China made it to that list.
The planned action will also help Indian students become more employable - the prevailing university system is "plagued by a shortage of well trained faculty, poor infrastructure and outdated and irrelevant curricula," according to India's planning commission.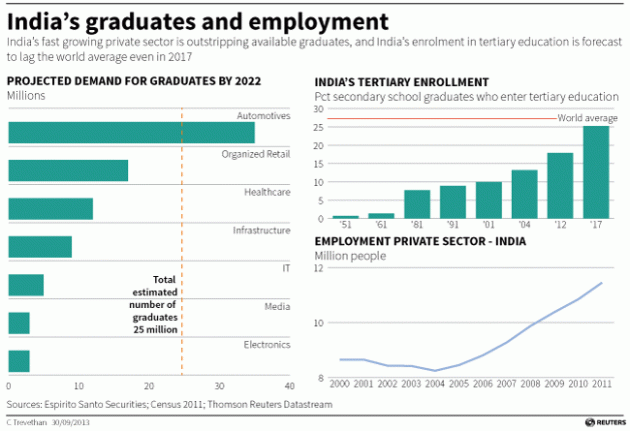 "It is absolutely urgent," Tobias Linden, the World Bank's lead education specialist in India, told the news agency. "The people who will make up the youth bulge have already been born. This is not a hypothetical situation. They might just be one, or two, or three years old now, but taking action to help them when they become 18 - those moves have to start now."
Guru Ghosh, the vice-president for outreach and international affairs at Virginia Polytechnic Institute and State University, said Virginia Tech hopes to set up a campus within three to five years provided the rules allow universities to make a profit.
Spokespeople for Stanford University, the University of Chicago, Duke University and the UK's University of Northampton said they had no plans for a campus in India.
"The environment has not been a welcoming one thus far and people have looked elsewhere," said Vincenzo Raimo, the director of the international office at Britain's University of Nottingham, which has campuses in China and Malaysia.
Should India fail to capitalise on its population boom over the next two decades, its demographics could be "a disaster - not a dividend", brokerage Espirito Santo Securities said in a report.