A US operated ship with thirty-one assault rifles and more than 5,000 rounds of ammunition on board has been seized by Indian police in the country's southern port of Tuticorin.
The privately-owned Seaman Guard Ohio, operated by US-based anti-piracy firm AdvanFort, was in Indian waters for nearly a month before it was intercepted by local authorities. It is believed to be a support vessel for providing armed security for shipping in the Gulf of Aden, that has been preyed upon by Somali pirates in recent years.
The Sierra Leone registered ship's 35 personnel - 25 armed security personnel and 10 crew members - have been detained for illegally transporting weapons. The assault rifles and ammunition have been seized.
AdvanFort, the US company which operates the ship, says the arms are properly licensed.
"We gave them 24 hours, but they were unable to produce the necessary documentation for the weapons," said M. Manohar, a superintendent of police in Tamil Nadu state's coastal security group. "We are conducting an enquiry."
Officials from federal intelligence agencies Research and Analysis Wing (RAW) and Intelligence Bureau (IB) have joined the operations along with local authorities in investigating the incident.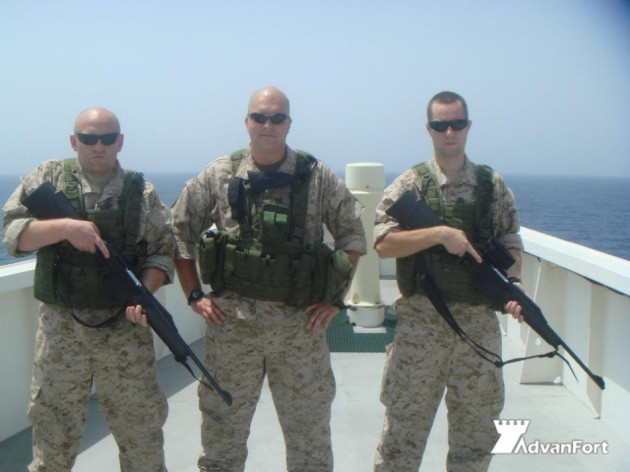 Company president William Watson said in a press release: "Unfortunately, much has been made of documentation relating to the firearms aboard the Ohio. AdvanFort purchased these weapons legally, registered them properly, and has the appropriate licences. Our guards use these firearms only to repel pirates and handle them safely in doing so."
The ship's 12 Indians, 14 Estonians, six British and three Ukrainians have also been charged for illegally buying diesel from India.
Although AdvanFort said it conceded this charge, it blamed the company's agent for failing to obtain the correct licence to purchase the fuel.
Piracy is Big Business
Somali pirates have become a major concern to ship owners in the last decade. Using motorboats the pirates have used the lawless coastline as a base for raids thousands of miles out into the Gulf of Aden and Indian Ocean, taking dozens of ships captive and being paid million dollar ransoms.
The highest ransom ever paid was £7m to release the Maran Centaurus oil tanker carrying $150m worth of crude oil and a 28-man crew. The cash was air-dropped onto the tanker.
As a result, the increasing concern among ship owners has spurred a burgeoning cottage industry in hiring private contractors for security.
The practice has grown rapidly, accompanied by a proliferation of private maritime security firms, including the The Washington DC-based AdvanFort, employing ex-Special Forces soldiers from around the world and remains largely unregulated.
In February 2012, two other vessels belonging to AdvanFort were detained by Eritrean authorities and their crews were arrested.
The firm pleaded guilty earlier this year in a US court to illegally purchasing arms. Those weapons were subsequently seized.
In the same month, two Indian fishermen were allegedly killed by two Italian marines serving as security guards (not connected to AdvanFort) on an Italian oil tanker off the Kerala coast. The marines are being tried in India.