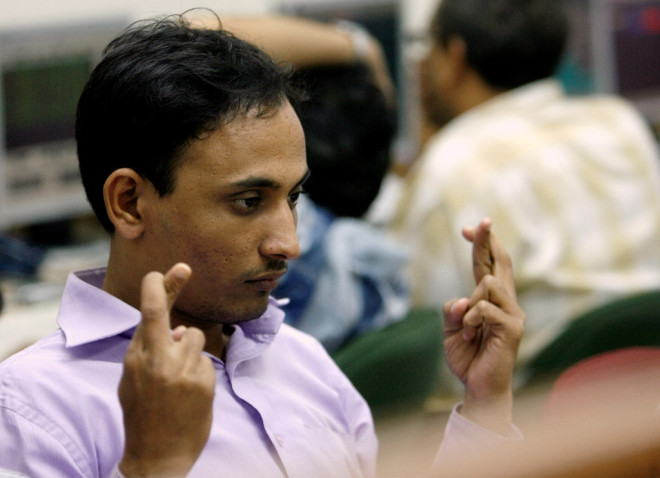 Parliamentary elections in India, the world's largest democracy, will commence on 7 April and some analysts expect a stock market rally in the run-up to the month-long elections.
The benchmark S&P BSE Sensex has gained in the month before elections in each of the preceding six general elections, with the biggest gain coming in 2009 when the Congress party-led United Progressive Alliance was elected for a second five-year term.
Uncertainties about election outcomes have not prevented advances in the past.
The gains in the weeks leading to elections can be attributed to a mix of expectations for policy reforms and election spending, according to traders.
Traders expect strong gains this year as solid foreign investment flows and a more stable rupee, against the backdrop of a narrowing current account deficit, are more than offsetting global uncertainties such as the reduction of the US Federal Reserve's monetary stimulus.
Market participants will be tracking elections manifestos for clues as to the direction of future economic policy in Asia's third-largest economy, Mumbai-based Angel Broking's Sarabjit Kour Nangra told IBTimes UK.
The markets will take a future position "depending on which government comes to power and depending on economic policies," Nangra added.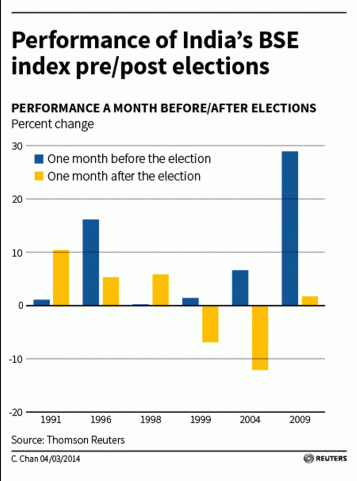 "A pre-election rally is definitely underway. Flows, positioning, macro are all pointing towards its extension in the coming months," G Chokkalingam, founder of Equinomics, a research and fund advisory company, told Reuters.
Earlier, Wells Fargo Securities said in a note to clients: "A return to the super-charged rates of economic growth á la 2004-07 likely will not occur in the foreseeable future.
"Economic reform in India has stalled over the past few years, and there likely won't be any major policy changes ahead of the general elections in May. Even then, the fractured nature of India's political system may prevent sweeping policy changes."
Capital Economics said in a 28 February note to clients: "Economic growth in India dipped in the final quarter of 2013, having picked up in Q3. Looking ahead, we continue to expect the economic recovery to remain slow and uneven."
Dismal Picture
Shrinking industrial output and slowing investments pulled down India's economic growth to a worse-than-expected 4.7% in the three months to December 2013, government data showed on 28 February.
The latest figures would make it hard for the outgoing government to meet its forecast of 5% growth for the fiscal year ending 31 March, 2014.
South Asia's longest serving prime minister, Manmohan Singh, will lead his coalition government to the polls next month. But weakening economic growth over the years and multiple graft scandals have dented his coalition's image.
India's economic growth hit a decade low of 5% in the 2013 financial year. Scandals rocked parliament where opposition parties have, on several occasions, refused to engage in debate about legislation that could have boosted growth.