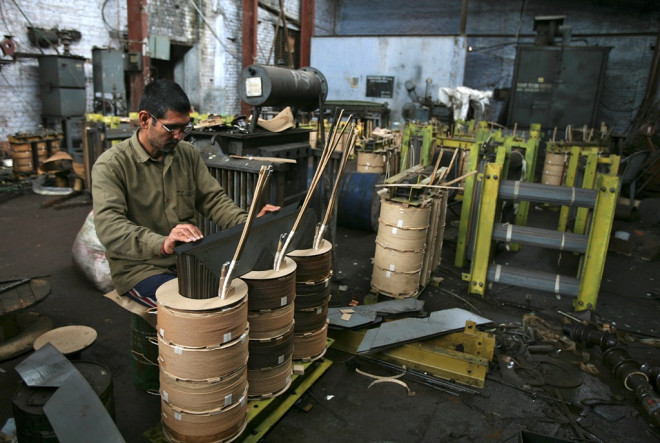 Shrinking industrial output and slowing investments pulled down India's economic growth to a worse-than-expected 4.7% in the three months to December 2013, government data showed on 28 February.
Growth in the October-December quarter, in Asia's third-largest economy, fell short of the 4.9% expansion rate forecast in a Reuters poll of economists, and was a tad lower from the preceding quarter's 4.8% rate.
Manufacturing contracted by 1.9% quarter-on-quarter, following a 1% gain in the preceding period. Mining and quarrying shrank 1.6%.
Economists had expected better farm output to contribute to a slight increase in overall growth. However growth in agriculture, forestry and fishing slowed to 3.6% from 4.6% in the prior quarter, data showed.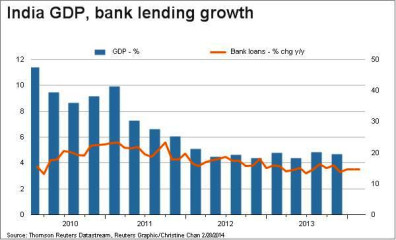 Higher borrowing costs have added to manufacturers' woes. The Reserve Bank of India has raised interest rates thrice since September 2013 in a bid to tame inflation.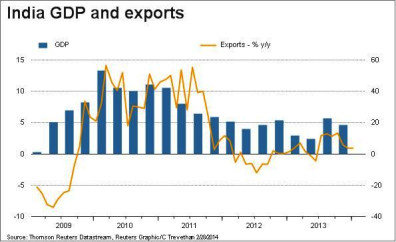 Meanwhile, food and vegetable prices, responsible for pulling down wholesale inflation to an eight-month low in January, could head higher again.
The latest figures would make it hard for the outgoing government to meet its forecast of 5% growth for the fiscal year ending 31 March, 2014. General elections are due by May.
Meanwhile, Indian stock markets ended at five-week highs on 28 February, ahead of the release of the GDP numbers. The benchmark 30-share Sensex finished 133 points higher at 21,120.12.
"This does not give much confidence," said Sujan Hajra, chief economist at Anand Rathi in Mumbai, referring to the GDP data.
"This is disappointing, but in line with the trend for past several quarters," Hajra told Reuters.
PNC senior international economist Bill Adams said in a note to clients: "Indian real GDP rose 4.7% in year-ago terms in the fourth quarter of calendar year 2013, little changed from the third quarter's 4.8% increase. Services output rose, while industrial production fell slightly. Electricity output rose 5% and construction output a weak 0.6% from a year earlier. Commercial vehicle sales fell 24.5% from a year earlier. The GDP deflator, an economy-wide measure of inflation, picked up a bit to a 7.7% year-ago increase in the quarter ending December from 7.2% in the third quarter of the calendar year.
"There is no light at the end of the tunnel visible in India's GDP release. Real GDP was weak, and inflation a bit worse than in the previous quarter. The best that can be said is that growth has stabilized, albeit at a level that is very weak for India. Inflation seems to be moderating a bit in early 2014, a trend that, if continued, could boost consumer spending power and lift domestic demand a bit this year. But with the Reserve Bank still hiking rates, India's has limited space to accelerate in 2014."
"India's disappointing growth in 2013 parallels similarly off performances from Mexico, Brazil, and China. The credit booms that fuelled growth in emerging markets in 2010 and 2011 are history, and trend growth rates are likely to continue to be a bit slower in 2014 and 2015. Recovering demand in advanced economies will be a boost to emerging market growth in 2014, providing some upside to the emerging market outlook," Adams added.