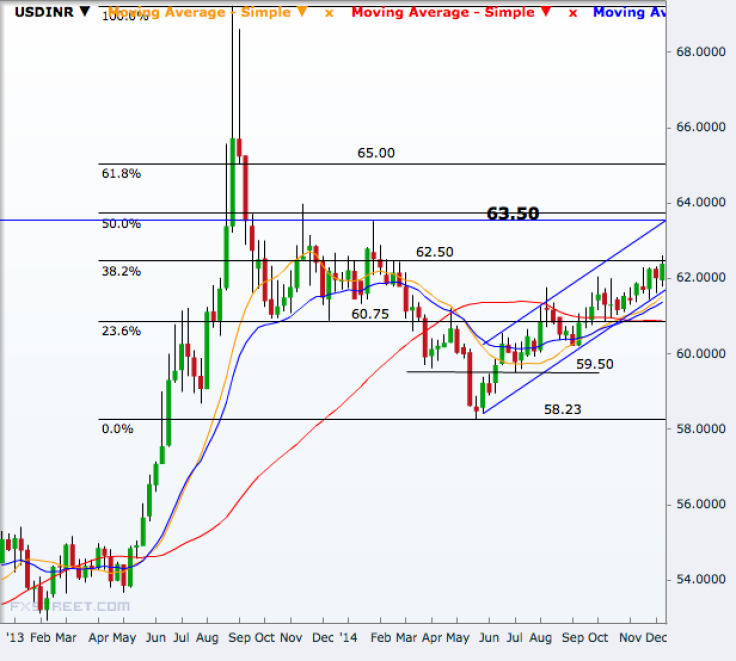 The Indian rupee gained some points on Friday, reversing a part of the previous day's slide which took it to a ten-month low despite the dollar trading off its recent highs.
However, a technical analysis shows the upward trend of the USD/INR pair is intact and it projects 63.50 in the near term.
The rupee has been keeping its downtrend since May despite two attempts in September and October, to break it. On both occasions, the pair failed to drop below the channel support.
The fact that the pair has been mostly holding closer to the support band of the channel rather than to the resistance band since September showed the strength of the 62 barrier on the upside.
But for the past three weeks the USD/INR has challenged that level consistently increasing the likelihood of a sharper jump higher in the near future.
The current trend has its channel resistance at 63.50, which also falls near the 50% Fibonacci retracement of the September 2013 to May 2014 selloff. A break of that will open the doors to the 65-mark.
The pair has its upside chances intact as long as the 60.75 base holds. Since October, the pair has been successfully holding above that level showing its strength.
A break of that will expose 59.50 next and then the May low of 58.23 but risks remain skewed to the upside rather than the downside.