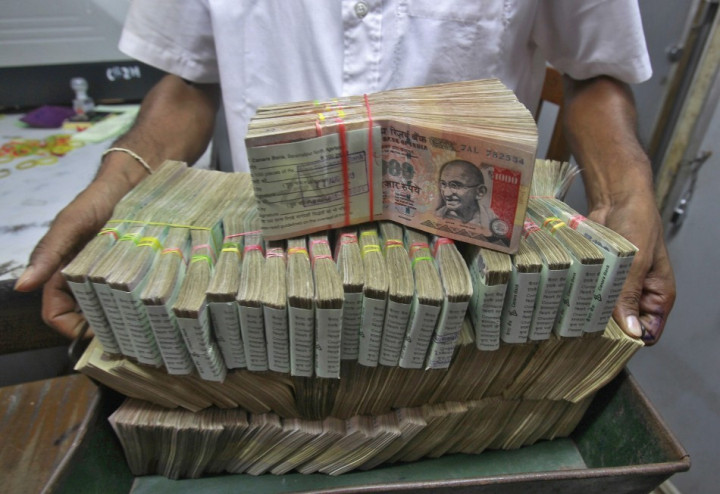 The Indian rupee strengthened slightly on Friday, moving off the nine-month low it touched in the previous session, helped by higher stocks and dollar selling by foreign banks, traders said.
USD/INR slipped to 61.805 from Thursday's close of 61.925 before edging back higher to 61.850. The pair had risen to a high of 62.28 on Thursday, its highest since late February.
"There is dollar supply in the market but there are buyers near 61.80. Foreign banks are mainly sellers," K Chandrangathen, the head of Forex trading at South Indian Bank, told IBTimes UK.
He expects the dollar/rupee pair to trade in a range of 61.78-61.95 on Friday.
Stock indices of India rose to record highs despite higher valuations and mixed signals from the rest of Asia. The CNX Nifty index climbed 0.7% to an all-time high of 8461.0 as of 05:20 GMT on Friday while Australia, New Zealand, Malaysia and Philippines indices were trading lower.
Traders said the movement in the dollar has been another factor. It has edged lower on Friday as San Francisco Federal Reserve President John Williams said on Friday that US economic growth was not as strong as seen in the past.
The dollar index, the gauge that measures the greenback's trade-weighted strength against a basket of six majors dropped to 87.45 from Thursday's close of 87.68.
Data overnight from the US, however, showed better results than what analysts had been expecting, suggesting the greenback strength is unlikely to fade away anytime soon.
Existing homes sales surged 1.5% in October from the previous month compared to the consensus of no change. The Philadelphia Fed's manufacturing index climbed to 40.8 for November from 20.7 in October, when analysts expected it to drop to 18.3.
Technically, the dollar/rupee pair is now likely to break through the 62.0 mark as it has traded above that barrier on Thursday, traders said, though they expect central bank intervention if volatility increases sharply.
According to a Bloomberg report on Thursday, one-month implied volatility in the rupee, rose for a fourth day to 6.26%, its highest since 7 November.
India Optimism
Also, investors overseas, especially from Japan, are still interested in Indian stocks and inflows and realisation of promised reform measures by the government can keep the Indian currency supported against the dollar rally as the Fed is debating about the timing of rate hikes.
The market is now waiting for GDP data for the July-September quarter from India. Analysts predict the economy to slowdown a little after the big surprise in the previous quarter but expect the data to signal continued improvement in investments.
"The economy is steadily improving, with business sentiment rising since the May election. There are signs that this is starting to lift investment," Moody's said in a report on Friday and predicted a growth rate of 5.3%. The data is due on 28 November at 12:15 GMT.