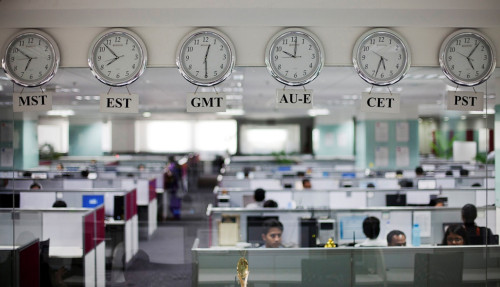 The seven-month downward spiral in Indian services sector activity eased in January but input prices climbed higher, putting further pressure on the Reserve Bank of India, a survey showed on 5 February.
The HSBC Services Purchasing Managers' Index (PMI) for India, compiled by Markit, climbed to 48.3 in January from 46.7 in the preceding month.
However, the reading, the highest in seven months, has been stuck below the 50 mark that divides growth from contraction for just as long.
The Input prices subindex leapt to 54.7 from 52.8 in January.
Input prices rose at their fastest pace in three months, forcing firms to pass some of those rising costs on to customers, although at a slightly slower pace than in December 2013.
Rising input prices are a new headache for Asia's third-largest economy, coming to grips with the recent selloff in emerging markets as the US Federal Reserve reduced its stimulus; slowing economic growth; and weak global demand for its goods and services.
Leif Eskesen, chief economist for India & ASEAN at HSBC said in a statement: "Service sector activity remains weak and broad based, although Post & Telecommunication led the softening in January.
Meanwhile inflation pressures firmed, with input prices rising at a faster pace. Despite the weak growth backdrop, the RBI has to stick to its hawkish bias to get inflation under control and through this eventually pave the way for a recovery in economic activity."
The services PMI data followed 3 February's HSBC manufacturing PMI report, which showed conditions for Indian manufacturers improved further in January, with activity growing at its fastest pace in about a year.
RBI Rate Hike
Late last month, India's central bank announced a surprise interest rate increase, in a bid to rein in inflation and defend the rupee from the volatility that affected emerging markets recently
The RBI raised its benchmark interest rate to 8% from 7.75%.
The decision came amid market concerns over slowing growth in China and the probability of a further reduction in US central bank stimulus.
India's consumer price index (CPI) inflation eased to a three-month low of 9.87% in December 2013, while wholesale price index (WPI) inflation slowed to 6.16% that month.