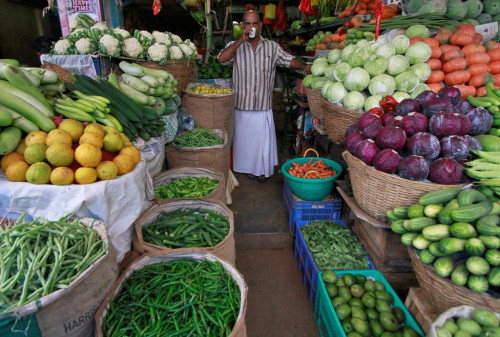 India's wholesale price-based inflation eased to an eight-month low in January as food prices moderated, offering some relief to the outgoing government that has struggled to reign in rising prices.
The wholesale price index (WPI), long regarded as India's main inflation gauge, rose 5.05% in January, government data showed on 14 February.
A Reuters poll of economists had forecast a 5.80% jump. Wholesale prices rose 6.16% in December 2013.
Core WPI inflation inched up to 3% in January, its highest level since April 2013.
Data also showed that the prices of vegetables rose 16.6% in January as against a 57.33% jump in December.
Bond Prices Drop
Bond prices fell following the release of the data on concerns that higher core inflation could bring on a hawkish response from Reserve Bank of India governor Raghuram Rajan when he reviews monetary policy in April.
The benchmark 10-year bond yield rose 2 basis points to 8.83%. The yield had initially fallen to 8.79%.
Anubhuti Sahay, economist at Standard Chartered Bank in Mumbai said in a note to clients: "With both headline CPI and WPI printing much better than expected, we maintain our view of a status quo on repo rate in the April policy meeting. However, the uptick in core WPI to 3% - the first time after April 2013 - keeps us wary.
"Most of the positive surprise in today's inflation print is on the back of lower vegetable prices (22% month-on-month correction). Thus a reversal in these prices especially during summer months can push headline inflation higher."
PNC senior international economist Bill Adams said in a note to clients: "Wholesale price inflation slowed to 5%. in year-ago terms in January, the slowest pace since May, 2013. Rupee denominated coal prices were unchanged from a month earlier. Government-administered coal prices held steady from December and fell 9% in year-ago terms, while globally determined oil prices were 10% higher than a year earlier. Prices of manufactured goods rose a tame 2.8% in year-ago terms, close to December's 2.6%.
"While wholesale price inflation is no longer the most import price measure for following Reserve Bank policy, it is still a useful measure of underlying price pressures in the Indian economy. The latest report shows that India's industrial base is still hurting, and manufacturers have weak pricing power. But pass-through of India's weaker rupee is still raising overall prices."
"Inflation is falling right now, but a new cycle of rupee weakness could again raise import prices and restart India's vicious cycle of high inflation fuelling exchange rate weakness fuelling high inflation," Adams said.
"India's looking better but it's not out of the woods yet," he added.
Earlier, government data showed that lower food prices helped pull down India's retail inflation to 8.79% in January, its lowest level in two years,
However, core retail inflation remained at about 8%, which Rajan felt was uncomfortably high.