Israel's tourism industry has been battered by the 50 day war with Hamas and will not recover until 2015, according to a senior official at the Ministry of Tourism.
Early data has shown a significant fall in the number of people visiting the country during the summer months, which is usually the peak season for tourists arriving from Europe.
"When events like this happen, it affects tourism and we had a 25% decrease in tourists coming to Israel during the months of August and September," said Oren Drori, marketing director at Israel's tourism ministry to IBTimes TV.
"Nonetheless, we believe that the recovery will be quite fast and we expect the first quarter of the year 2015 to be back on track again with the momentum that we had been up until before, which was supposed to be a record breaking year."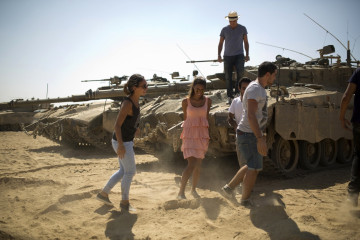 Israel's tourism sector had been growing at a steady rate until the summer's deadly conflict in Gaza. More than 2,200 Palestinians were killed in the offensive dubbed Operation Protective Edge by the government. Some 66 Israeli soldiers died in the war, along with seven Israeli civilians.
Drori told IBTimes TV that he was frustrated by the setback to the tourism sector but said he was unconcerned by protest movements calling for boycotts of Israeli goods and services over its behaviour during the Gaza conflict.
"It's [a sore subject], I must say as a citizen, to see the BDS [Boycott, Divestment and Sanctions] movements, especially in Europe," said Drori.
"Nonetheless I would say that as far as tourism is concerned, it has no impact as far as I know, almost none. Most of the impact is on issues to do with commerce and I believe that it impacts especially politicians, rightfully so, but we don't feel the impact on the tourism industry at all."
For more, check out IBTimes TV or the video at the top of the page.