A prototype of the Socialmatic camera inspired by the Instagram app could be completed before 2013, according to its designer Antonio De Rosa.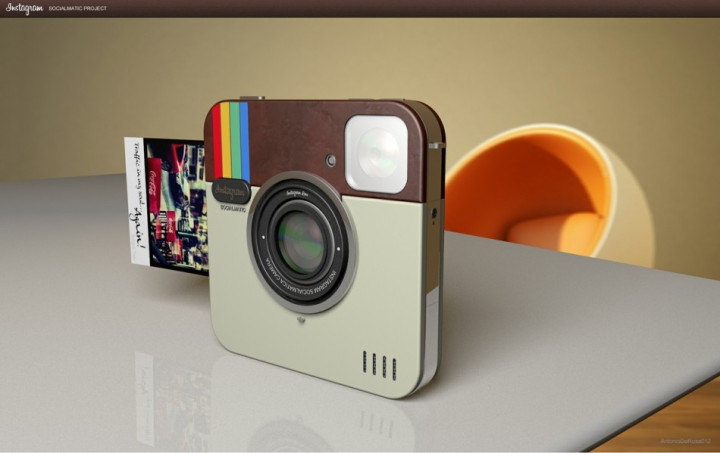 De Rosa told IB Times UK that the concept could soon be turned into a working prototype. "We are searching to have it before the end of this year. It's not so easy, as you can imagine. Socialmatic has some different areas involved: optical, connection, printing, consumable."
De Rosa, who owns the ADR design studio, has just returned from a trip to Singapore where he went to meet Hong Kong manufacturers. The design and concept for the camera was initially inspired by the Instagram camera app, but has no official connections with the app itself.
"It was good. Me and my partners are satisfied. We hope to make an announcement soon," he revealed. "Now we have a partner that is a collector between Socialmatic Inc and the future manufacturers."
Asked to clarify what he meant by 'collector', he replied: "Our partner is both collector and connector, because it will be the glue between our creativity and main ideas and market approach to build the product."
He also confirmed that the Socialmatic name would be used, despite it being the name of a social bookmarkmarking system.He said his company is called Socialmatic Inc, "and there is no trouble to use this name."
The Socialmatic camera failed to reach its $50,000 funding target on the Indiegogo crowdsourcing website but was bankrolled by a private investor.
"We are proud to communicate [to] you Socialmatic Project now has private investors to cover all the first steps for the market introduction of this amazing product," De Rosa said at the time.
However, De Rosa said the Indiegogo funding website had provided an idea of the kind of person that would buy it.
"You can call them fan, hipster, Instagrammers or what do you desire. We call them Socialcammers," he said. "People want this gadget."
The Socialmatic camera was first designed as a concept project by ADR Studios, the website behind a host of iPhone 5 design concepts
"Try to think to pick the Instagram App icon and try to make a real camera. This is the main idea at the base of Instagram Socialmatic Project," De Rosa's original post said.
Features of the concept device included a 4:3 touchscreen; an optical zoom; LED flash; two lenses (one main lens and the second for 3D filters, webcam applications and QR Code capturing); 16GB storage; and Wi-Fi and Bluetooth connections.
De Rosa said "Not so much" when we asked if the project had changed his life, offering, "My life will be change definitely when I can deliver the first Socialmatic Camera."