One Direction fans were sent into an online frenzy after a US fashion and lifestyle site InStyle published an article attempting to reveal the sex, name and weight of Louis Tomlinson and Briana Jungwirth's unborn child.
Using the headline: "Louis Tomlinson is officially a Dad!" the article read: "One Direction band member, Louis Tomlinson, has officially crossed over into parenthood. Los Angeles based stylist Briana Jungwirth delivered a healthy baby TK on TK at TK."
On closer inspection, it soon became apparent that the article was published prematurely in a major blunder as vital statitics were missing and that reporter had used 'TK' in their place. The baby is not due until March 2016.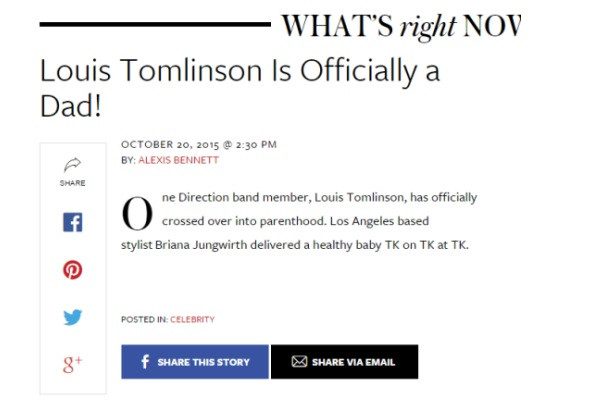 Not satisfied, one fan decided to go into the article's html where they uncovered all the details that they were looking for. In a screenshot of the html on their Tumblr account, the coding reads: "Briana Jungwirth gives birth to a healthy baby girl named Elizabeth Marie Tomlinson! Weighing 8 pounds and 3 ounces, the bundle of joy is to be taken home tomorrow morning."
So thanks to InStyle mastering the art of time travel, Directioners now have the sex, name and weight of the 23-year-old star's baby before he or she even arrives.
Tomlinson confirmed that he was set become a father back in August during One Direction's appearance on Good Morning America after host Michael Strahan managed to tease the details out of the 23-year-old by offering his congratulations.
Strahan asked: "Louis, from one father to another, I want to congratulate you on your upcoming fatherhood. So, how are you feeling?" Tomlinson replied: "Obviously it's a really exciting time, so I'm buzzing, thank you."
Although the pop star has remained tight-lipped ever since, it was recently reported that the pair were having a little girl. He is said to have leaked the news after revealing that there was a pink-themed baby shower for the Los Angeles-based stylist.
"They would have been happy either way, but they know he will be a great dad to a daughter because he has six sisters," an insider told InTouch Weekly.