With the release date for the highly anticipated jailbreak drawing closer, the evasi0n website has once again revealed the progress update that signals 80 percent completion. In other words, the Linux GUI is now complete and the private beta testing is under way.
According to the latest progress bar on the website, the evad3rs team is poised to complete extended beta testing following the preliminary user testing (private beta testing) to ascertain known bugs and implement the necessary fixes. Although heightened anxiety and anticipation gripping the jailbreak community have become a norm in the run-up to any major jailbreak release, the veteran team of evad3rs has turned the iOS 6 jailbreak release into a suspense thriller with incremental progress updates keeping the user guessing.
As Redmondpie reports, pod2g's recent Twitter post strengthens the belief that the jailbreak release is closer than ever and it could indeed be on Sunday 3 February.
Here is what pod2g tweeted on Friday, while hinting at the imminent jailbreak release:
"Planetbeing latests posts on reddit regarding that subject. They are really interesting. We're close to the release! Stay tuned!"
Fake Evasi0n Lookalike Website Surfaces
In related news, a fake evasi0n lookalike website has been making waves on the internet for some time. The fake site displays download buttons for Windows, Mac OS X and Linux along with a progress bar (which mirrors the original) reading: "100%: The wait is over". Here is a screenshot: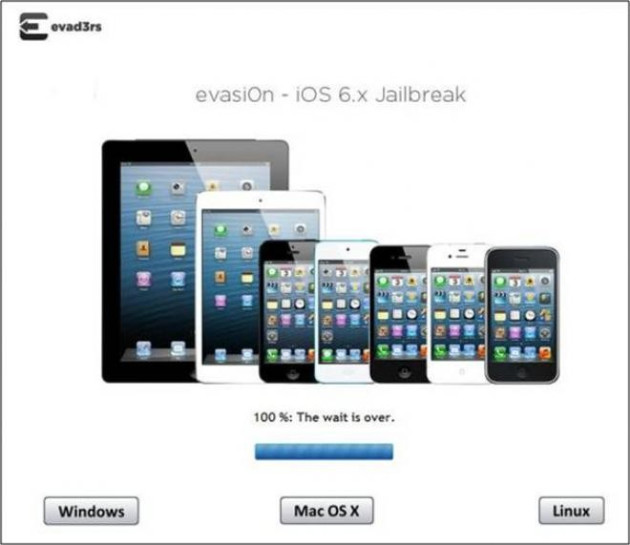 Meanwhile, a hoax pod2g blog (click here to see the original blog) has also been spotted with a link to the fake evasi0n website. Users are advised to beware of such fraudulent websites, which intend to extort money in the name of developing or releasing the highly-anticipated iOS 6 jailbreak. As in the past, evad3rs will make a public announcement before the jailbreak release, and until then stay tuned, as IBTimes UK will bring you more updates as they surface.