In his recent Twitter update, the world's most popular iOS hacker and jailbreak developer, pod2g, reveals his disappointment with iOS 7 features while considering the switch to Android. This surprising move from the world's highly-regarded iOS hacker could deal a fatal blow to the fans of jailbreak community, as the future of untethered jailbreaks looks gloomy and uncertain.
Pod2g has been instrumental in contributing to timely releases of the most-desirable untethered jailbreaks for iOS including the recently released evasi0n jailbreak. As iDownloadBlog notes, though the veteran hacker is still undecided upon giving up on iOS, his lack of interest in iOS 7 could actually kill any hopes of seeing an iOS 7 untethered jailbreak in the near future.
Here is what pod2g had to say while revealing his disappointment with iOS 7 design, battery life and features in his latest Twitter update: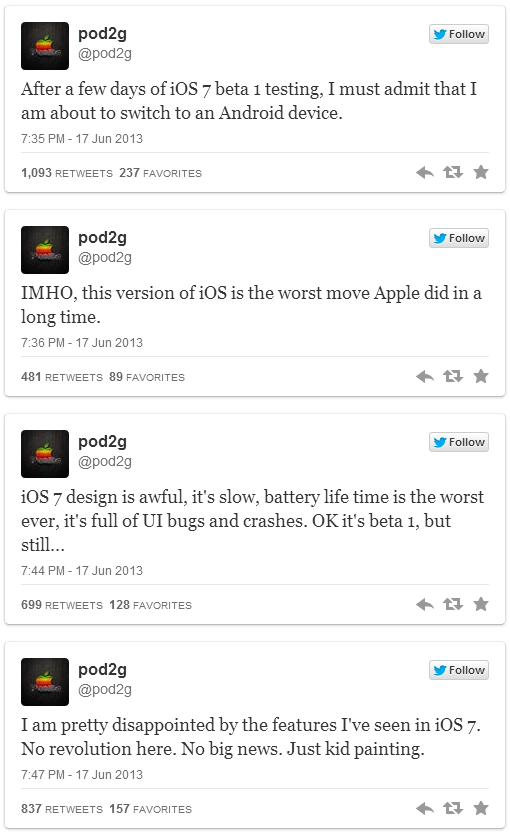 Citing the lack of innovative features in iOS 7 as his main concern, pod2g touts the new design as being awful, slow and full of UI bugs and crashes. Pod2g's backlash at Apple comes within days of several users complaining about iOS 7's lacklustre performance.
To remedy the issues with iOS 7 updates, IBTimes UK has earlier posted a step-by-step guide to downgrade iOS 7 Beta to iOS 6 on iPhone 5, iPhone 4/4S and iPod touch 5, and how to Imitate iOS 7 Beta on Jailbroken iOS 6 Device. Nevertheless, Saurik's recent exploration of Android coupled with pod2g's disappointment with iOS 7 puts the future of iOS jailbreaking at stake. Avid fans of iOS jailbreaking can only hope that the veteran hacker will return to the jailbreak scene once again to save the community.