iPhone 5S and iPhone 5C Chinese Release Date Set for 20 September
According to a social media post Chinese customers will get the latest iPhones at the same time as the US and UK, with launch set for 20 September.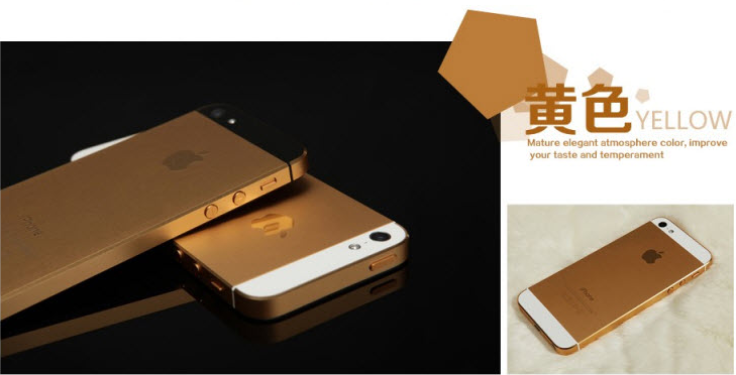 Typically Apple has launched new models of the iPhone in China much later than in countires like the US, UK, Japan and Australia. This time around however the iPhone 5C and Phone 5C which are due to be launched in Apple's Cupertino headquarters next week are likely to arrive in China much sooner.
The delayed launch of the iPhone has led to the creation of a 'grey market' for iPhones in the country where thousands of people travel to the UK, Hong Kong and the US to buy iPhones and secretly bring them back into the country, charging a hefty premium.
According to the Wall Street Journal (WSJ China), China Telecom posted an advert on popular Chinese micro-blogging service Sina Weibo saying it will be offering both the iPhone 5S and iPhone 5C at launch and that both models were now available for pre-order - before realising its mistake and pulling down the advert.
China's third-largest and the world's tenth-largest mobile telecoms provider, China Telecom is one of two Chinese operators which has a deal with Apple to sell its smartphones - the other being China Unicom. However it is the world's biggest mobile operator - China Mobile - which has some 740 million subscribers which could be key to major growth for Apple.
Rumours that Apple has penned a deal with China Mobile grew earlier this week when Apple announced it would be holding its first ever Chinese media event hours after the iPhone event takes place in California.
in a further boost to Apple's bottom line for the coming quarter, Reuters is reporting that Japan's largest carrier, NTT DoCoMo, will also finally begin to offer its customers the iPhone later this month.
20 September launch
While the China Telecom post has been taken down now, Chinese tech blog Techweb managed to capture a screenshot of the post before it was taken off. The post links to a pre-order site which has now been stripped down though a teaser remains saying: "Looking Forward to..." with smaller text reading: "If you have more hope, please leave your name and telephone here."
Tech in Asia reports that according to the deleted post, China Telecom will offer the iPhone 5S and 5C from 20 September. The message reads as follows:
"China has been chosen as the first country where the iPhone 5S/5C will be shipped! Weibo preorder time! If you want to be one of the people who gets a handset on day one, click here. Those who successfully preorder will also enjoy a high-end gift bag. Because the iPhone products haven't actually shipped yet, detailed numbers and actual shipping information may change."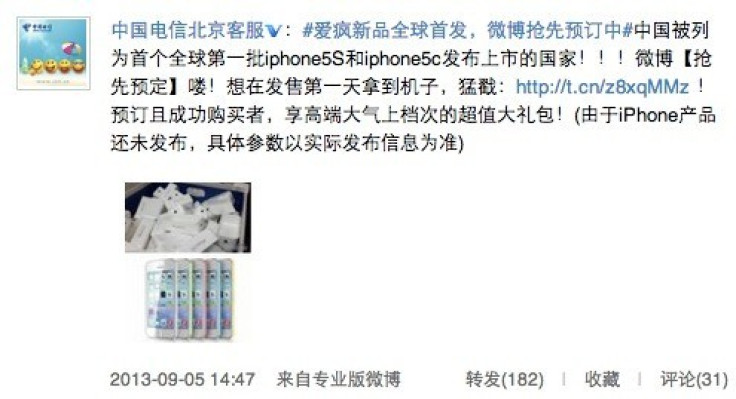 Latest reports suggest that China Mobile has secured a deal for lower-priced iPhone (iPhone 5C) with Apple, while also acquiring support for its nascent TD-LTE 4G network. However, the iPhone maker has reportedly refused to accept the distributor's demand to secure a portion of China App Store profits as part of the deal.
It appears that Apple's scheduled press conference for 11 September in Beijing is linked to the landmark iPhone deal with China Mobile, which could see the launch of low-cost iPhone, the iPhone 5C.
China Telecom has seen a growth of 28.3% in its sales revenues for the year, owing to iPhone 3G customers subscribing to its network. China Telecom's record for the last six months (ending June) seems healthy with 18.3 million 3G subscribers added to its subscriber base highlighting China Telecom's need to continue strong iPhone sales.
© Copyright IBTimes 2023. All rights reserved.