Click here to follow IBTimes UK's live blog between Mumbai Indians v Rising Pune Supergiants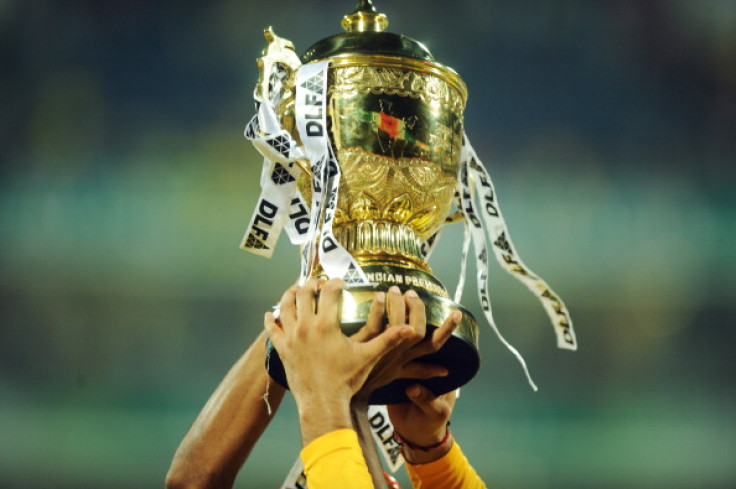 Click here to follow IBTimes UK's live blog between Mumbai Indians v Rising Pune Supergiants
The ICC T20 World Cup 2016 came to an end when four consecutive sixes from Carlos Brathwaite off Ben Stokes' final over at the Eden Gardens in Kolkata helped West Indies beat England to emerge as champions. Just a week after the tournament ended, the Indian Premier League (IPL) 2016 returns on 9 April.
Mumbai's Wankhede Stadium will host the first match of the ninth edition of the IPL as defending champions Mumbai Indians face new franchise Rising Pune Supergiants. The latter along with Gujarat Lions are the two new entrants for this year's domestic Twenty20 tournament in India.
This year, there has been a major reshuffling in the teams and that has allowed big name players like Shane Watson, Yuvraj Singh, Kevin Pietersen and others to move from one franchise to another. [Click here to read the final team-wise list].
Where to watch live
Live coverage of the IPL 2016 will be on Sky Sports 2 and Sky Sports 2 HD in the UK. Set Max, Sony Six and Sony Six HD will telecast it in India. Click here for the live streaming link. Hotstar app will also provide live streaming of every match.
Teams
Mumbai Indians
Royal Challengers Bangalore
Kolkata Knight Riders
Kings XI Punjab
Sunrisers Hyderabad
Delhi Daredevils
Gujarat Lions
Rising Pune Supergiants
Fixtures
Match 1: Mumbai Indians vs Rising Pune Supergiants
Date and Time: 9 April, Saturday - 3:30pm BST/8pm IST
Venue: Wankhede Stadium, Mumbai
Match 2: Kolkata Knight Riders vs Delhi Daredevils
Date and Time: 10 April, Sunday – 3:30pm BST/8pm IST
Venue: Eden Gardens, Kolkata
Match 3: Kings XI Punjab vs Gujarat Lions
Date and Time: 11 April, Monday - 3:30pm BST/8pm IST
Venue: PCA, Mohali
Match 4: Royal Challengers Bangalore vs Sunrisers Hyderabad
Date and Time: 12 April, Tuesday - 3:30pm BST/8pm IST
Venue: M. Chinnaswamy Stadium, Bengaluru
Match 5: Kolkata Knight Riders vs Mumbai Indians
Date and Time: 13 April, Wednesday - 3:30pm BST/8pm IST
Venue: Eden Gardens, Kolkata
Match 6: Gujarat Lions vs Rising Pune Supergiants
Date and Time: 14 April, Thursday - 3:30pm BST/8pm IST
Venue: Saurashtra Cricket Association Stadium, Rajkot
Match 7: Delhi Daredevils vs Kings XI Punjab
Date and Time: 15 April, Friday - 3:30pm BST/8pm IST
Venue: Ferozeshah Kotla, Delhi
Match 8: Sunrisers Hyderabad vs Kolkata Knight Riders
Date and Time: 16 April, Saturday – 11:30am BST/4pm IST
Venue: Rajiv Gandhi International Cricket Stadium, Hyderabad
Match 9: Mumbai Indians vs Gujarat Lions
Date and Time: 16 April, Saturday - 3:30pm BST/8pm IST
Venue: Wankhede Stadium, Mumbai
Match 10: Kings XI Punjab vs Rising Pune Supergiants
Date and Time: 17 April, Sunday - 11:30am BST/4pm IST
Punjab Cricket Association Stadium, Mohali
Match 11: Royal Challengers Bangalore vs Delhi Daredevils
Date and Time: 17 April, Sunday - 3:30pm BST/8pm IST
Venue: M. Chinnaswamy Stadium, Bengaluru
Match 12: Sunrisers Hyderabad vs Mumbai Indians
Date and Time: 18 April, Monday - 3:30pm BST/8pm IST
Venue: Rajiv Gandhi International Cricket Stadium, Hyderabad
Match 13: Kings XI Punjab vs Kolkata Knight Riders
Date and Time: 19 April, Tuesday - 3:30pm BST/8pm IST
Venue: Punjab Cricket Association Stadium, Mohali
Match 14: Mumbai Indians vs Royal Challengers Bangalore
Date and Time: 20 April, Wednesday - 3:30pm BST/8pm IST
Venue: Wankhede Stadium, Mumbai
Match 15: Gujarat Lions vs Sunrisers Hyderabad
Date and Time: 21 April, Thursday - 3:30pm BST/8pm IST
Venue: Saurashtra Cricket Association Stadium, Rajkot
Match 16: Rising Pune Supergiants vs Royal Challengers Bangalore
Date and Time: 22 April, Friday - 3:30pm BST/8pm IST
Venue: MCA International Stadium, Pune
Match 17: Delhi Daredevils vs Mumbai Indians
Date and Time: 23 April, Saturday - 11:30am BST/4pm IST
Venue: Ferozeshah Kotla, Delhi
Match 18: Sunrisers Hyderabad vs Kings XI Punjab
Date and Time: 23 April, Saturday - 3:30pm BST/8pm IST
Venue: Rajiv Gandhi International Cricket Stadium, Hyderabad
Match 19: Gujarat Lions vs Royal Challengers Bangalore
Date and Time: 24 April, Sunday - 11:30am BST/4pm IST
Venue: Saurashtra Cricket Association Stadium, Rajkot
Match 20: Rising Pune Supergiants vs Kolkata Knight Riders
Date and Time: 24 April, Sunday - 3:30pm BST/8pm IST
Venue: MCA International Stadium, Pune
Match 21: Kings XI Punjab vs Mumbai Indians
Date and Time: 25 April, Monday - 3:30pm BST/8pm IST
Venue: Punjab Cricket Association Stadium, Mohali
Match 22: Sunrisers Hyderabad vs Rising Pune Supergiants
Date and Time: 26 April, Tuesday - 3:30pm BST/8pm IST
Venue: Rajiv Gandhi International Cricket Stadium, Hyderabad
Match 23: Delhi Daredevils vs Gujarat Lions
Date and Time: 27 April, Wednesday - 3:30pm BST/8pm IST
Venue: Ferozeshah Kotla, Delhi
Match 24: Mumbai Indians vs Kolkata Knight Riders
Date and Time: 28 April, Thursday - 3:30pm BST/8pm IST
Venue: Wankhede Stadium, Mumbai
Match 25: Rising Pune Supergiants vs Gujarat Lions
Date and Time: 29 April, Friday - 3:30pm BST/8pm IST
Venue: MCA International Stadium, Pune
Match 26: Delhi Daredevils vs Kolkata Knight Riders
Date and Time: 30 April, Saturday - 11:30am BST/4pm IST
Venue: Ferozeshah Kotla, Delhi
Match 27: Sunrisers Hyderabad vs Royal Challengers Bangalore
Date and Time: 30 April, Saturday - 3:30pm BST/8pm IST
Venue: Rajiv Gandhi International Cricket Stadium, Hyderabad
Match 28: Gujarat Lions vs Kings XI Punjab
Date and Time: 1 May, Sunday - 11:30am BST/4pm IST
Venue: Saurashtra Cricket Association Stadium, Rajkot
Match 29: Rising Pune Supergiants vs Mumbai Indians
Date and Time: 1 May, Sunday - 3:30pm BST/8pm IST
Venue: MCA International Stadium, Pune
Match 30: Royal Challengers Bangalore vs Kolkata Knight Riders
Date and Time: 2 May, Monday - 3:30pm BST/8pm IST
Venue: M. Chinnaswamy Stadium, Bengaluru
Match 31: Gujarat Lions vs Delhi Daredevils
Date and Time: 3 May, Tuesday - 3:30pm BST/8pm IST
Venue: Saurashtra Cricket Association Stadium, Rajkot
Match 32: Kolkata Knight Riders vs Kings XI Punjab
Date and Time: 4 May, Wednesday - 3:30pm BST/8pm IST
Venue: Eden Gardens, Kolkata
Match 33: Delhi Daredevils vs Rising Pune Supergiants
Date and Time: 5 May, Thursday - 3:30pm BST/8pm IST
Venue: Ferozeshah Kotla, Delhi
Match 34: Sunrisers Hyderabad vs Gujarat Lions
Date and Time: 6 May, Friday - 3:30pm BST/8pm IST
Venue: Rajiv Gandhi International Cricket Stadium, Hyderabad
Match 35: Royal Challengers Bangalore vs Rising Pune Supergiants
Date and Time: 7 May, Saturday – 11:30am BST/4pm IST
Venue: M. Chinnaswamy Stadium, Bengaluru
Match 36: Kings XI Punjab vs Delhi Daredevils
Date and Time: 7 May, Saturday - 3:30pm BST/8pm IST
Venue: Vidarbha Cricket Association Stadium, Nagpur
Match 37: Mumbai Indians vs Sunrisers Hyderabad
Date and Time: 8 May, Sunday – 11:30am BST/4pm IST
Venue: Wankhede Stadium, Mumbai
Match 38: Kolkata Knight Riders vs Gujarat Lions
Date and Time: 8 May, Sunday - 3:30pm BST/8pm IST
Venue: Eden Gardens, Kolkata
Match 39: Kings XI Punjab vs Royal Challengers Bangalore
Date and Time: 9 May, Monday - 3:30pm BST/8pm IST
Venue: Vidarbha Cricket Association Stadium, Nagpur
Match 40: Rising Pune Supergiants vs Sunrisers Hyderabad
Date and Time: 10 May, Tuesday - 3:30pm BST/8pm IST
Venue: MCA International Stadium, Pune
Match 41: Royal Challengers Bangalore vs Mumbai Indians
Date and Time: 11 May, Wednesday - 3:30pm BST/8pm IST
Venue: M. Chinnaswamy Stadium, Bengaluru
Match 42: Sunrisers Hyderabad vs Delhi Daredevils
Date and Time: 12 May, Thursday - 3:30pm BST/8pm IST
Venue: Rajiv Gandhi International Cricket Stadium, Hyderabad
Match 43: Mumbai Indians vs Kings XI Punjab
Date and Time: 13 May, Friday - 3:30pm BST/8pm IST
Venue: Wankhede Stadium, Mumbai
Match 44: Royal Challengers Bangalore vs Gujarat Lions
Date and Time: 14 May, Saturday – 11:30am BST/4pm IST
Venue: M. Chinnaswamy Stadium, Bengaluru
Match 45: Kolkata Knight Riders vs Rising Pune Supergiants
Date and Time: 14 May, Saturday - 3:30pm BST/8pm IST
Venue: Eden Gardens, Kolkata
Match 46: Mumbai Indians vs Delhi Daredevils
Date and Time: 15 May, Sunday – 11:30am BST/4pm IST
Venue: Wankhede Stadium, Mumbai
Match 47: Kings XI Punjab vs Sunrisers Hyderabad
Date and Time: 15 May, Sunday - 3:30pm BST/8pm IST
Venue: Vidarbha Cricket Association Stadium, Nagpur
Match 48: Kolkata Knight Riders vsRoyal Challengers Bangalore
Date and Time: 16 May, Monday - 3:30pm BST/8pm IST
Venue: Eden Gardens, Kolkata
Match 49: Rising Pune Supergiants vs Delhi Daredevils
Date and Time: 17 May, Tuesday - 3:30pm BST/8pm IST
Venue: MCA International Stadium, Pune
Match 50: Royal Challengers Bangalore vs Kings XI Punjab
Date and Time: 18 May, Wednesday - 3:30pm BST/8pm IST
Venue: M. Chinnaswamy Stadium, Bengaluru
Match 51: Gujarat Lions vs Kolkata Knight Riders
Date and Time: 19 May, Thursday - 3:30pm BST/8pm IST
Venue: TBC
Match 52: Delhi Daredevils vs Sunrisers Hyderabad
Date and Time: 20 May, Friday - 3:30pm BST/8pm IST
Venue: Shaheed Veer Narayan Singh International Cricket Stadium, Raipur
Match 53: Rising Pune Supergiants vs Kings XI Punjab
Date and Time: 21 May, Saturday – 11:30am BST/4pm IST
Venue: MCA International Stadium, Pune:
Match 54: Gujarat Lions vs Mumbai Indians
Date and Time: 21 May, Saturday - 3:30pm BST/8pm IST
Venue: TBC
Match 55: Kolkata Knight Riders vs Sunrisers Hyderabad
Date and Time: 22 May, Sunday - 11:30am BST/4pm IST
Venue: Eden Gardens, Kolkata
Match 56: Delhi Daredevils vs Royal Challengers Bangalore
Date and Time: 22 May, Sunday - 3:30pm BST/8pm IST
Venue: Shaheed Veer Narayan Singh International Cricket Stadium, Raipur
Play-Offs
Match 57: TBD vs TBD
Date and Time: 24 May, Tuesday - 3:30pm BST/8pm IST
Venue: M. Chinnaswamy Stadium, Bengaluru
Match 58: TBD vs TBD
Date and Time: 25 May, Wednesday - 3:30pm BST/8pm IST
Venue: MCA International Stadium, Pune
Match 59: TBD vs TBD
Date and Time: 27 May, Friday - 3:30pm BST/8pm IST
Venue: MCA International Stadium, Pune
Final
Match 60: TBD vs TBD
Date and Time: 29 May, Sunday – 3:30pm BST/8pm IST
Venue: Eden Gardens, Kolkata