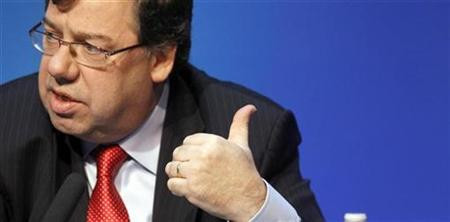 The embattled Prime Minister Ireland, Brian Cowen, has said that he is stepping down from his position as head of the governing Fianna Fail Party.
However Mr Cowen has said that he will remain in post as Prime Minister until the general election, which is scheduled for 11 March.
Mr Cowen has presided over Ireland's economic collapse following the financial crisis. Last year he continued to deny that Ireland needed a bailout from the EU and IMF.
Despite his protestations however his government was forced into accepting the bailout, leading many commentators in Ireland and in Britain to say that the "Celtic tiger" is now just an economic vassal state of the EU.
On Tuesday Mr Cowen survived a secret ballot on his leadership, although this did little to renew his poll ratings, neither did it stop much of the criticism that has gone his way in recent months.