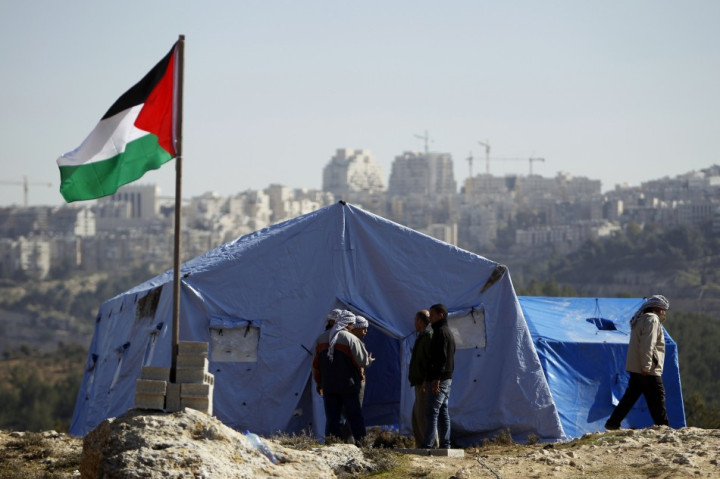 Israeli security forces have removed tents pitched by Palestinian protesters near a disputed Jewish settlement in the West Bank as Israel prepares for general elections.
Members of the Israeli Defence Forces dismantled a Palestinian protest camp named Bab al-Karama, "the Gateway of Dignity", and bulldozed a building near the village of Beit Iksa, northwest of Jerusalem.
"Israeli border police evacuated the structures, removing some 20 people who were there and confiscating the tents and equipment," an Israeli security source said.
It was the second protest camp erected by Palestinians against Israeli settlements in the West Bank to be demolished in the last week after Israeli troops forcibly evicted 250 Palestinian activists from another camp pitched on the controversial E1 area.
Israeli defence minister Ehud Barak has also reportedly decided to cut off Palestinian access to the 12 sq km plot of land by putting up a separation barrier, Israeli newspaper Haaretz reported.
According to the paper, Israel plans to divert the fence dividing Israel from the West Bank to include E1 where plans to build a new Jewish settlement were given the green light in December in retaliation for Palestine's successful bid to be recognised as a non-member observer state by the UN.
Israel's go-ahead has been widely criticised by the international community.
A Jewish settlement in the E1 area would cut the Palestinian West Bank in two and threaten the stalled peace process.
Prime Minister Benjamin Netanyahu's Likud party was leading in the polls just hours before ballots opened for Israel's parliamentary election.
However, it has lost terrain to the far-right and ultra-orthodox Jewish Home party which has gained support through its charismatic leader Naftali Bennett and a strong pro-settlement message.