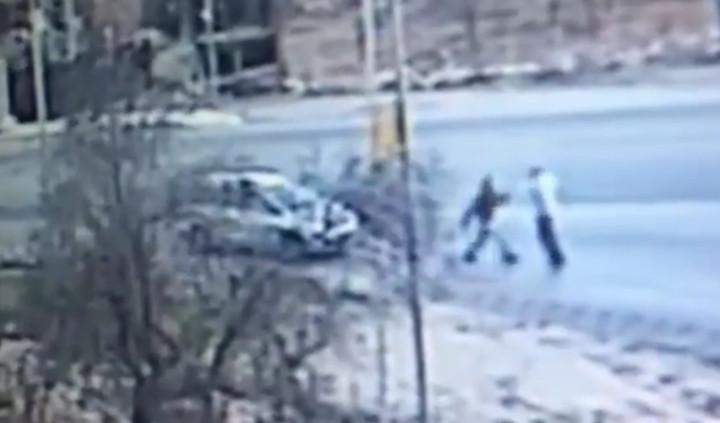 The shocking moment an Israeli woman was killed in a stabbing attack in the West Bank was captured on camera.
Dalia Lamkus, 25, was fatally wounded by Mahar al-Hashmalud, an Arab-Palestinian from the flashpoint West Bank city of Hebron, near the settlement of Alon Shvut in Gush Etzion.
Another two people were injured - one seriously and the other lightly in the attack, the second on Israeli citizens in the same day.
CCTV camera footage shows al-Hashmalud, 30, driving his car at high speed into people waiting at a bus stop, knocking over at least one - believed to be Lamkus.
The attacker then leaves his car out of the frame and runs back to the woman who is lying injured on the pavement.
He stands over her and apparently stabs multiple times her and a passer-by who was trying to help.
Seconds later, he charges another driver who pulled his car on to the other side of the road and a fight erupts.
Finally, a security guard arrives and shoots the attacker, who flees as the officer chases him down the street.
Al-Hashmalud was hit several times at the chest and was taken to a hospital in serious conditions.
The incident happened just about 100 meters away from where three Jewish teenagers killed by Palestinian radicals were kidnapped in July.
The murders were followed by the retaliatory killing of a Palestinian boy, who was burned alive.
Israel and the Palestinian territories have experienced almost daily episodes of unrest and violence ever since.
Earlier today, an Israeli soldier was stabbed and seriously wounded outside a train station in Tel Aviv.
A third attempted stabbing attack took place in Jerusalem just minutes after the murder in Alon Shvut.
An Arab-Israeli attempted to stab a security guard on the Light Rail in Jerusalem but was caught and arrested.