As the western world marked 25 years since the fall of the Berlin Wall, Palestinian youths took symbolic action of their own, hammering a hole in the wall separating Israel and the Palestinian territories.
The Palestinian youths, armed with sledgehammers, smashed an opening into the wall in the West Bank village of Bir Nabala, which is located between Jerusalem and Ramallah.
"It doesn't matter how high the barriers will be, they will fall. Like the Berlin Wall fell - The Palestinian wall will fall," the activists told Maan news agency.
The activists said that their symbolic gesture was designed to show Israelis that the wall will not prevent Palestinians reaching Jerusalem and the al-Aqsa Mosque, the third-holiest site in Islam which many Palestinians are prevented from visiting.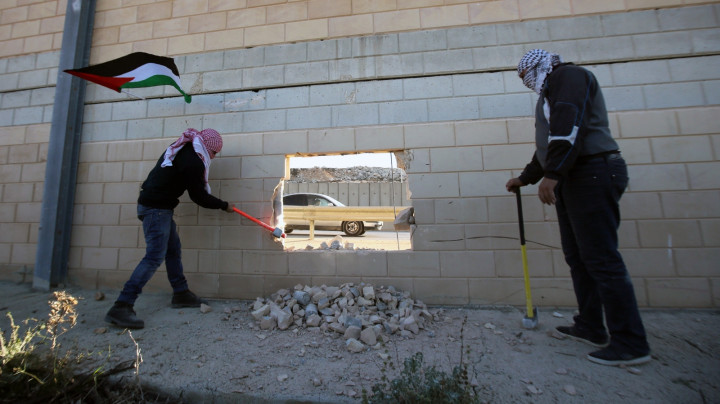 "The separation barrier exemplifies apartheid in modern times. We will continue with our activities against the expansion of settlements and the construction of the barrier until it is removed," another activist told Andalou news agency.
The wall is referred to by many Palestinians as the "Apartheid Wall" which separates Israelis from Palestinians in the same vein that the Berlin Wall separated west from east Berliners.
In footage shot by Palestinian TV, they added that Palestinians should be ready to participate in the "Intifada (uprising) of Jerusalem" which would be "the final, fateful intifada to liberate Palestine".
In 2004, the International Court of Justice ruled that "the construction of the wall, and its associated regime, are contrary to international law".
Israelis defend the separation wall as a vital security measure which defends the state of Israel from infiltration and attack, using a drop in attacks as an example of its purpose.
Tensions in the occupied West Bank and Jerusalem have continued to rise following a series of incidents such as two hit-and-run attacks in Jerusalem which killed two people; clashes surrounding the allowance of Jewish visitors into the Temple Mount compound; and the killing of a Palestinian youth by Israeli police.