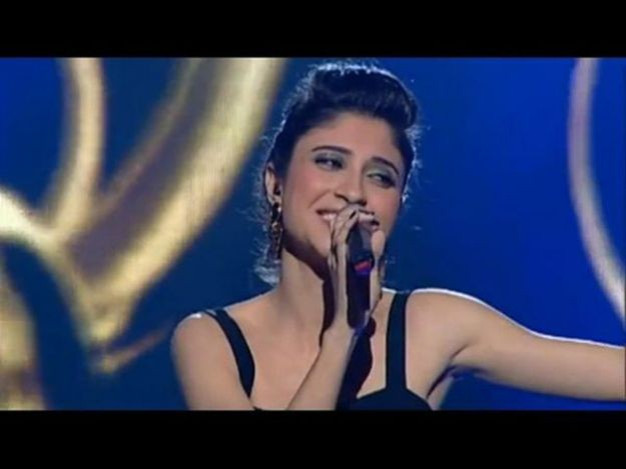 Lina Makhoul, an Israeli Arab, has clawed her way to victory on Israel's version of The Voice.
The 19-year-old singer was crowned the season two winner after delivering an impressive rendition of Leonard Cohen's Hallelujah.
Born to Christian parents in Acre, northern Israel, Makhoul put her studies in biology at the prestigious Technion Institute on hold to take part in the contest.
"I'm speechless. It will take a while for the triumph to sink in," she said during her acceptance speech.
"I'm so pleased that we've reached a place where the crowd was able to distinguish between the mind and the heart. I hope that I was able to excite them and make them understand me."
Throughout the competition Makhoul claimed that although she had been the victim of racism, she also received a lot of positive responses to her appearances. "The majority rules, right?" she told her supporters.
During the show's blind auditions stage, stars from the music industry listen to contestants sing without seeing them before choosing who will go through to the next stage of the competition.
Israeli singer Shlomi Shabbat, who went on to mentor Makhoul, said that she had been blown away by the teenager's "unique voice".
"I didn't know she was Arab and I didn't care when I did. It doesn't matter if someone's Arab, religious, Ethiopian, Georgian. She could be anything, but her voice is one of a kind," Shabbat insisted.
Ahead of the grand finale, Makhoul revealed that she was driven to win not just for herself, but for all members of Israel's Arab minority.
"I was drawn to her from the early stages of the show. She's able to melt my heart no matter what language she chooses to sing in," she told the BBC.
Makhoul continued: "I'm happy with people who are voting for me because they think I sing well, but I'm also happy for people who vote for me because I'm representing a sector in Israeli society," she said just before going on stage.
"If I win, it will be a triumph of not just this sector, but an entire nation."
Having seen off three other contestants in the final rounds, Makhoul will receive a record contract and a scholarship to attend music school.
"By voting for me it shows that the people followed their hearts. That is the most important thing of all," she said.