With just 100 days to go until Rio de Janeiro hosts the 2016 Olympic Games, it looks like the city will be ready. Two years ago, Australian IOC member John Coates called the preparations for the Rio Olympics "the worst" in recent memory, but a lot has happened since then. Brazil's Sports Minister Ricardo Leyser says infrastructure is 98% complete with no major construction projects left.
The Olympic Park in the upmarket suburb of Barra da Tijuca looks spectacular. Television cameras will love the aerial shots above Copacabana beach, or views from the famous Christ the Redeemer statue as it peers over Sugar Loaf mountain and Guanabara Bay.
IBTimes UK presents aerial views of Rio, showing the state of the venues with 100 days to go until the games begin.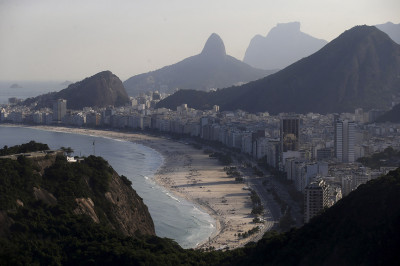 Some problems still hang over South America's first Olympic games. President Dilma Rousseff is facing calls for impeachment and may have been suspended by the time the games begin on 5 August. Brazil is in the grips of its worst recession in decades, with 10% unemployment. Away from politics, the Zika virus threatens athletes and tourists. Ticket sales are lukewarm, and the alleged bacteria and virus-contaminated venues for sailing, rowing, canoeing and open-water swimming could put athletes at risk.
The deaths of two people when a new Olympic legacy cycling path collapsed into the sea have raised doubts about construction safety in the rush to build facilities. Eleven workers have died on Olympic-related projects since January 2013.