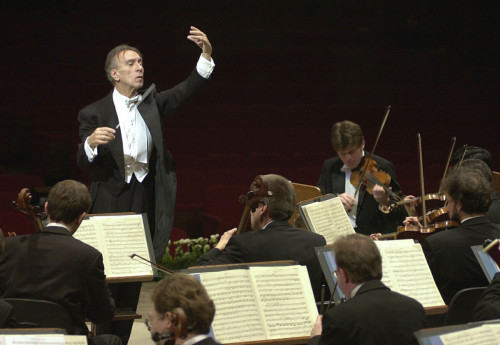 Italian maestro Claudio Abbado, one of the world's most celebrated conductors, has died in Bologna aged 80.
Abbado, whose career comprised La Scala in Milan, the Berlin Philarmonic and Vienna State Opera, had been ill for several years. Mild and gentle-mannered, he was far from the stereotype of tyrannical conductors.
"This is such a painful moment. I can't speak," said a tearful Attilia Giuliani, head of the Abbadiani fan club in Milan.
Born in Milan in 1933 and the son of a fiddler teacher, Abbado studied piano, composition and conducting at the Conservatory.
He debuted at La Scala in 1960, after winning the prestigious Koussevitsky prize in Massachusetts.
In 1963 he was invited by another celebrated conductor, Herbert Von Karajan, to lead the Wiener Philharmoniker at the Salzburg festival. He served as musical director of La Scala from 1968 to 1986.
Abbado was also principal conductor of the London Symphony Orchestra from 1979 to 1986. During that period, Abbado performed a range of Romantic pieces, particularly the work of Gustav Mahler – his favourite composer.
Last year, he was appointed to the Italian Senate as Senator for Life by president Giorgio Napolitano.
In his latest years, Abbado founded his own orchestra in Lucerne, Switzerland and spent more time training young musicians and founding youth orchestras in Europe.
A devout leftist and European, Abbado had suffered health problems for many years. He resigned in 1991 from his Vienna Opera post for unspecified health reasons and underwent stomach cancer surgery in 2000.
Illness also obliged La Scala to cancel two highly-expected concerts in 2010, which would have marked Abbado's return to the Milan opera hosue for the first time in 25 years.
Abbad had requested 90,000 trees be planted in his name for the benefit of Milan residents as a living memorial.
AP opera critic Mike Silverman, in a 2011 review of a new recording of Beethoven's only opera Fidelio, wrote that Abbado conducting at the Lucerne Festival in 2010 made "an energetic reading of the score that's often brisk but never merely businesslike."
In the great choral scenes, he said, Abbado "slows down the tempo just enough to allow us to savor the grandeur of Beethoven's vision."
AP and AFP contributed to this article.