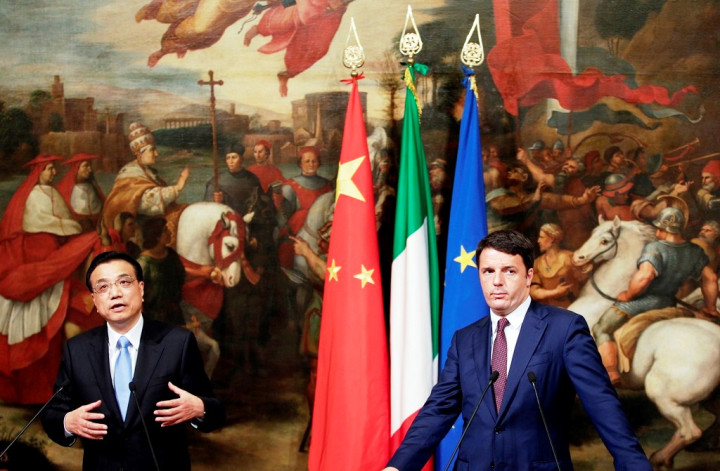 Italy and China have inked business accords worth about €8bn, covering engineering and technology and financial cooperation.
At a news conference with Chinese Premier Li Keqiang in Rome on 14 October, Italian Prime Minister Matteo Renzi said the deals should pave the way for further accords with the world's second largest economy.
Li, who will be attending the ASEM meeting of Asian and European leaders in Milan later in the week, said China wished to strengthen cooperation with small and medium-sized firms and will encourage more Chinese tourists to visit Italy, Reuters reported.
Renzi's regime has been eager to woo cash-rich buyers from China, particularly after the Eurozone's third largest economy slipped back into recession for the third time since 2008.
Italy has a total public debt of over €2tn (£1.59bn, $2.53tn).
But foreign investors, suspicious of Italy's infamous red tape and unpredictable legal system, are expected to tread with caution.
Deals
Italian state lender Cassa Depositi e Prestiti (CDP) signed an accord with China Development Bank (CDB) for cooperation projects worth up to €3bn (£2.4bn, $3.8bn) over the first five years of the deal.
CDP said the projects could be in infrastructure, direct equity investments or export financing, without giving further details.
Italian state investment fund FSI entered into a memorandum of understanding with China Investment, a sovereign wealth fund responsible for managing a part of China's foreign exchange reserves.
The funds will eye joint investment projects, in which each would provide up to €500m.
Aerospace group Finmeccanica bagged a €400m contract to supply 50 helicopters, while electricity group Enel entered into a memorandum of understanding with the Bank of China, possibly releasing up to €1bn of financing over the next five years.
Prior Chinese Investments
Apart from being a big buyer of Italian government bonds, China's central bank has made several significant investments in blue-chip Italian firms this year. They include stakes of about 2% in Italy's biggest carmaker Fiat, leading domestic telecoms operator Telecom Italia and the world top cable maker Prysmian.
In July, China's State Grid acquired a 35% stake in energy grid holding company CDP Reti for €2.1bn.
In May, Shanghai Electric Group bought a 40% stake in power engineering company Ansaldo Energia, from FSI, for €400m.
In March, the PBoC bought similar stakes in leading oil and gas operator Eni -- an investment worth €1.3bn -- and in utility Enel.