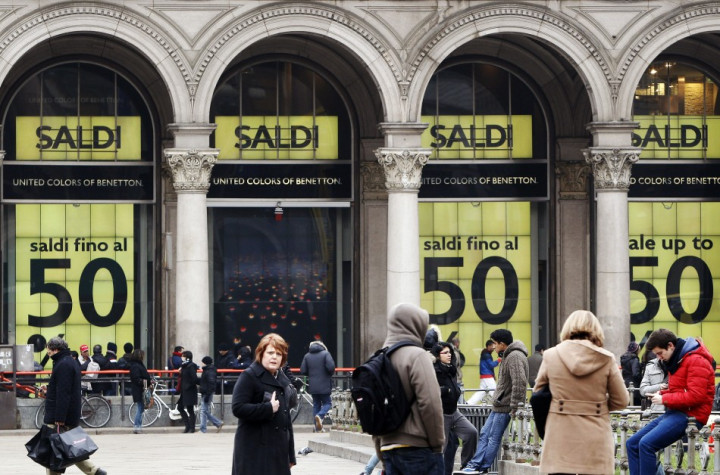 Italy is tipped to lose millions of euros in tax revenues when it delays implementing its proposed sales tax hike by three months.
The government is also mulling over whether to scrap the sales tax altogether, which could result in a £3.4bn (€4bn, $5.3bn) annual loss, for the recession-hit country. At one point, the government was considering a 1 percentage point hike in the main rate of value-added tax (VAT) to 22%.
"I think a delay is inevitable," deputy economy minister Stefano Fassina told the La Stampa newspaper at the weekend. He also predicted "the most likely outcome" would be for the tax hike to first be delayed until October, when the government presents its budget for 2014, and then abandoned entirely.
Former prime minister Silvio Berlusconi's centre-right People of Freedom party, which is backing prime minister Enrico Letta's coalition government, has demanded that the increase be scrapped. However, Letta has hesitated because of the impact on Italy's already strained public finances.
On 22 June, the Il Giornale newspaper, owned by Berlusconi's brother, said on its front page that the government would collapse unless Letta scrapped the sales tax increase.
The cancellation would amount to £3.4bn a year and the government would have to find another way to make up for the imminent deficit.
This would be either through spending cuts or other tax hikes, in order to meet its goal of keeping its budget deficit, below the European Union-prescribed limit of 3% of the country's output.
Fassina told the newspaper the government was still looking for a solution to plug the impending deficit.
Italy is suffering from a recession and the country's GDP contracted 2.3% on an annual basis during the first three months of 2013, when industrial production fell 4.4%. In comparison, the 17-nation eurozone's economy contracted by 0.9% on an annual basis in the first quarter of 2013.