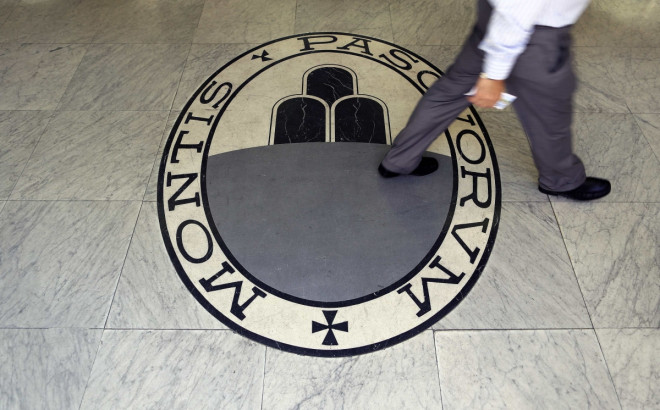 Banca Monte dei Paschi di Siena's (MPS) shares tumbled to their lowest in nearly five months in Milan trading after the lender said it may have to raise more money than planned earlier, through an upcoming stock sale to repay state aid.
Shares in Italy's third-largest bank dropped as much as 10%, the biggest intraday drop since 26 November, 2013.
The stock was trading 9.96% lower at 22 euro cents as of 12:48 CEST, giving the bailed out lender a market value of €2.65bn (£2.2bn, $3.6bn).
Siena-based MPS said on Tuesday it was assessing how much capital it needed, Reuters reported, a day after Italian news agency ANSA reported the lender could raise up to €5bn ($6.9bn) from the planned capital hike, much more than the €3bn envisaged earlier.
The stock sale is expected in May.
MPS chief executive Fabrizio Viola told analysts in November that the bank had three potential windows to initiate the share sale - January 2014, June or the end of that year.
Failure to do so in 2014 will result in the nationalisation of the bank, with the Italian government converting state loans into equity.
Turnaround Plan
On 7 October, MPS made public a radical turnaround plan that entailed 8,000 job cuts and aimed for €440m in cost savings. The bank had already laid off 2,700 employees.
Under the new plan, MPS said it could repay its state loans fully by 2017, and that it expected to report a net profit of €900m by that date. The bank plans to repay €3bn to the government in 2014.
The bank said it wanted to reduce its €23bn Italian government debt portfolio to about €17bn by the end 2017.
The bank also said it would cap top executives' pay packages, at €500,000 a year, until the capital increase was completed or the state aid was fully repaid.
The moves are aimed at appeasing the European Union, which has to approve €4.1bn rescue aid.