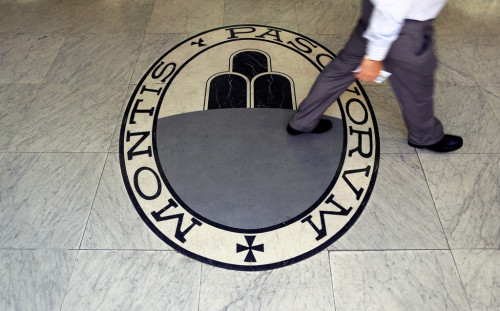 Banca Monte dei Paschi di Siena's (MPS) stock jumped on 23 December amid reports that the bank's largest shareholder could be looking to sell a 20% stake in the troubled lender.
Monte Paschi's stock shot up 5.01% in Milan trading and was trading 4.13% higher to €0.176 at 12:52CET.
A La Repubblica report said MPS' top shareholder, a local foundation of the same name, could be close to selling a 20% in the troubled lender to three other banking foundations and a group of investment funds.
The move could put an end to a dispute between MPS and the debt-ridden foundation, which owns 33.5% of MPS, ahead of a 27 December shareholder meeting that is expected to decide on the timing for a mandatory €3bn (£2.5bn, $4.1bn) stock sale.
According to the Italian daily, the Fondazione Monte dei Paschi is due to meet later on 23 December to approve the sale of a large chunk of its stockholding at a price of €0.14 a share, below 20 December's closing price of €0.1695 per share.
Pursued by Reuters, the foundation confirmed it would meet later in the day but refused to comment on a potential deal to sell its shares in the bank.
Earlier, the foundation had asked MPS to defer its proposed rights issue until May 2014, saying it needed more time to sell a part or its entire stake in MPS to pay off its own debt. The foundation has threatened to kill the proposal by voting against it at the shareholder meeting.
MPS Chief Executive Fabrizio Viola told analysts on a 14 November conference call that the bank had three potential windows to initiate the share sale - January 2014, June or the end of that year.
Failure to do so in 2014 would result in the nationalisation of Italy's third largest bank - with the Italian government converting state loans into equity.
Turnaround Plan
On 7 October, MPS made public a radical turnaround plan that entailed 8,000 job cuts and aimed for €440m in cost savings. The bank had already laid off 2,700 employees.
Under the new plan, MPS said it could repay its state loans fully by 2017, and that it expected to report a net profit of €900m by that date. The bank plans to repay €3bn to the government in 2014.
The bank said it wanted to reduce its €23bn Italian government debt portfolio to about €17bn by end 2017.
The bank also said it would cap top executives' pay packages, at €500,000 a year, until the capital increase was completed or the state aid was fully repaid.
The moves are aimed at appeasing the European Union, which has to approve Monte Paschi's €4.1bn rescue aid.