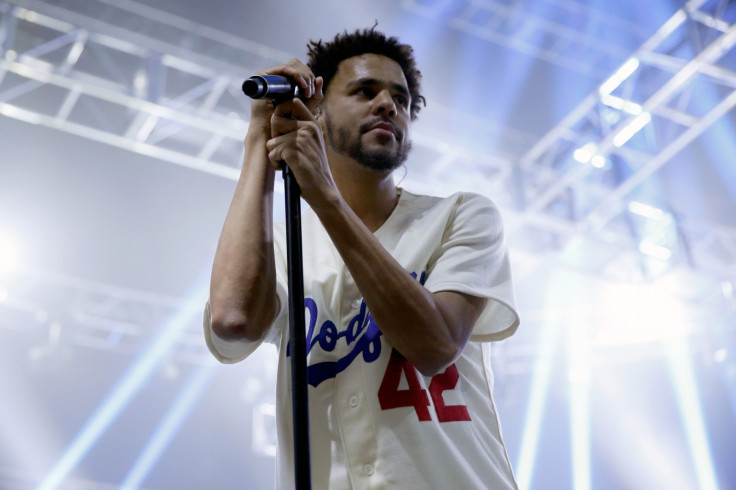 It appears J Cole has had a change of heart about his Kanye West "diss track". The US rapper has unveiled the tracklist for his forthcoming album 4 Your Eyez Only but controversial song False Prophets is noticeably absent.
Following the surprise announcement his fourth album will arrive on Friday 9 December, J Cole, 31, premiered False Prophets and the accompanying music video. Lyrics are rumoured to be aimed at West, 39, with J Cole making references to an artist with an "ego" and a self-professed "genius".
However, many criticised the poor timing of False Prophets given West's recent meltdown and ongoing medical treatment for "exhaustion", which perhaps prompted J Cole to backtrack and remove the song from the album. Others speculate that the No Role Modelz rapper simply used West's current plight as publicity for his new album.
One wrote on Twitter: "Some people still don't know J. Cole is using kanye for publicity stunt," while another weighed in: "I love how j Cole has been irrelevant for years now and all of a sudden just drops an album dissing other rappers...publicity stunt much?" Another commentator said: "It's hilarious y'all don't see these publicity stunts J.Cole pulls for what they are."
Aside from West, J Cole is also accused of throwing digs at Drake over claims the One Dance rapper uses a ghostwriter, while others believe he makes reference to rapper Wale. Lyrics include: "Maybe it's my fault for idolising n****s based off the words they be rappin/ But come to find out, these n****s don't even write they s**t/ Hear some new stuff bubblin' up, then they bite the s**t."
Maybach Music Group rapper Wale responded to J Cole with his own diss track titled Groundhog Day. Wale raps: "I'm heavily flawed but far from a false prophet," and "I remember me and Cole would open for Hov/ everyday a star is born, I guess I died in the womb." He also says directly to J Cole: "I love my brother though, that's why it's rest in peace to Tommy we still bumping Cole."
4 Your Eyez Only is a solo affair for J Cole who has decided not to feature any collaborations on the album. The LP follows on from the rapper's critically acclaimed 2014 Forest Hills Drive, which topped the US Billboard 200 chart in December 2014. J Cole supported the album with a world tour, including a sold-out night at London's O2 Arena in May 2015. Fans are still hoping J Cole and Kendrick Lamar will release their long-awaited mixtape which has been in the works for several years.
J Cole – 4 Your Eyez Only tracklist
1. For When The Bell Tolls
2. Immortal
3. Deja Vu
4. Ville Mentality
5. She's Mine Pt. 1
6. Change
7. Neighbors
8. Foldin Clothes
9. She's Mine Pt. 2
10. 4 Your Eyez Only
Watch J Cole's False Prophets music video: