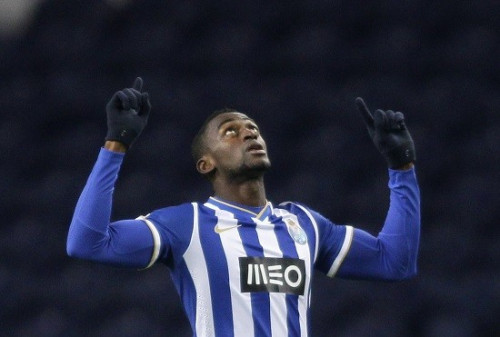 Arsenal and Chelsea target Jackson Martinez has encouraged his growing list of suitors after admitting he is still open to a move to one of Europe's more established leagues.
As was the case last summer, the Porto striker was heavily linked with a move to one of Europe's elite having maintained his relentless goalscoring form in the Primeira Liga this season.
Both Arsenal and Chelsea have monitored the Colombian international but Arsene Wenger and Jose Mourinho indicated last month they will wait until the summer before adding a star striker to their squads.
Questions remain over Martinez's long term future at the Portuguese champions and the 27-year-old admits he would jump at the chance to experience life at another big club, although he has little preference to where that might be.
In an interview with Colombian newspaper El Tiempo, Martinez said of a move away from Porto: "That opportunity may be given. It would be nice someday to be at another big team like Porto, which are a great team I am very happy at.
"I like English, Spanish, Italian and German leagues, Among them I do not have a favourite."
Martinez, who has 13 goals in 17 Portuguese league appearances this campaign off the back of netting 33 in 43 in all competitions last season, was reportedly ready to enter talks with Porto over a new contract in January, but such claims were later denied by the striker's new agent.
The Colombian reportedly has a release clause of £34m in his current deal which us unlikely to prevent many of European clubs from making their interest formal.
Both Arsenal and Chelsea are very likely to pursue an established centre forward this summer and despite Martinez admitting he will have little preference to where he will move to when offers come in, he could jump at the chance to move to north London after recently revealing his admiration for Wenger's side.
"I cheered for Arsenal when I was a kid – I love their style of play. It's flowing and open with a lot of first touch passes. It would be suitable for a player like me," Martinez said last month.
"If I get a chance to play for a high level club like Arsenal I wouldn't hesitate to accept it."