JailbreakCon 2012 is expected to be the biggest jailbreaking convention yet, thanks to the confirmed attendance of high-profile members of the jailbreaking community - pod2g, Pimskeks, Saurik, Rpetrich, p0sixninja, iH8Sn0w and many more.
Last year's MyGreatFest held in London was the world's first jailbreaking convention, which witnessed the presence of numerous Cydia developers and prominent members of the jailbreaking community, including Cydia creator Saurik (Jay Freeman).
Renamed as "JailbreakCon", the event brings a first-of-its-kind jailbreaking convention to the masses of North America on 29 September and will run from 9:00 AM to 7:00 PM (PT).
JailbreakCon is expected to be bigger and better than MyGreatFest in every way, featuring well-known figures from the jailbreaking community. According to Redmond Pie, pod2g reportedly confirmed his presence for the JailbreakCon first in an interview at the HITB conference last week and the latest Twitter update from the official JailbreakCon account reaffirms the status of pod2g's presence at this year's WWJC.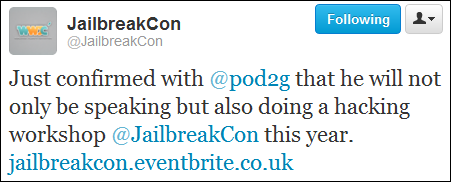 "Just confirmed with @pod2g that he will not only be speaking but also doing a hacking workshop @JailbreakCon this year," reads the tweet, sent from the official JailbreakCon account.
With pod2g being a key cog in the wheel behind the making of the latest untethered jailbreak - Absinthe 2.0 - the forthcoming JailbreakCon is expected to be enhanced by his presence. With Redmond Pie and iJailbreak being two of the key official sponsors, expect them to be present at the San Francisco event.
Tickets are already up for grabs and can be purchased online here.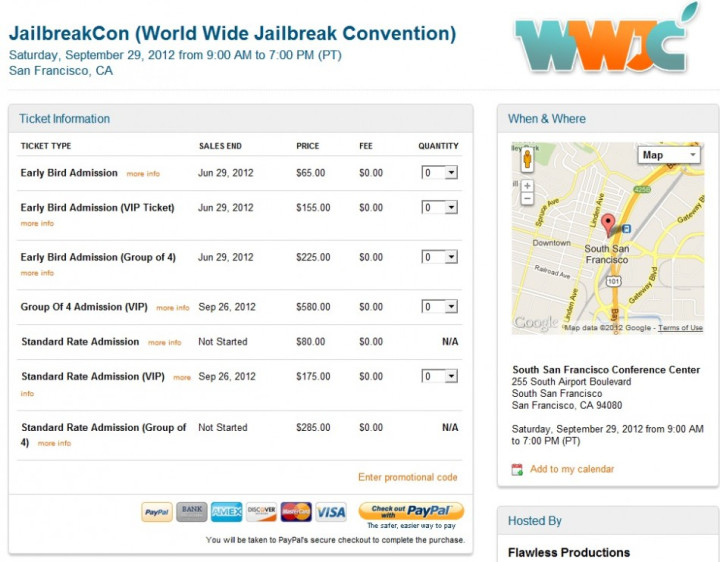 The event date scheduled for 29 September is drawing closer, while the expected release of the iPhone is also just around the corner. The overlapping of the two big events should spur dev teams to draw battle plans ahead of the iOS 6 launch, which is also expected to accompany the next iPhone release.
With majority of the tickets already sold out, you should really make haste to secure your ticket before it's too late. It's your best chance to grab an opportunity to immerse yourself in a complete day dedicated to jailbreaking. You will stand to gain a lot of information and insight on crafting mods and tweaks using software exploits and much more in the expansive world of hacking.