Liverpool winger Stewart Downing says winning a trophy this season would be the ideal way to mark Jamie Carragher's retirement.
Carragher confirmed his retirement from football after over 700 professional appearances last week, to end speculation over the offer of a new contract; with his new deal set to expire in the summer.
The former England international has won nine major honours during his Liverpool career, but Downing says a 10<sup>th piece of silverware would be the ideal send-off for the club stalwart.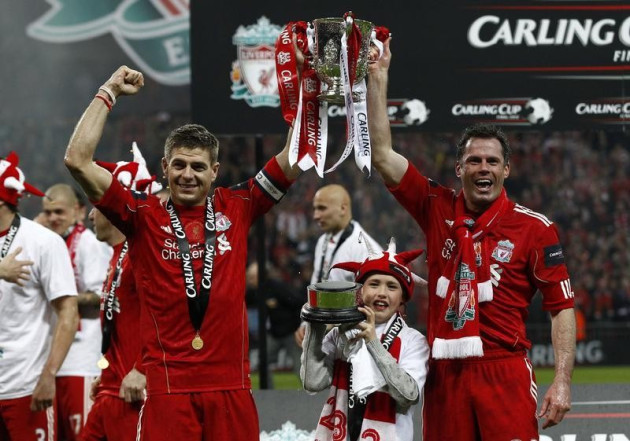 "That would be perfect, if we won something," Downing said. "You could see what the Carling Cup meant to him last year. It would be nice if we could win something for him.
"He's obviously a massive player for this club and is influential when he's not playing. He's good around young players and the older players. He's a voice and a good lad.
"Carra will probably just want to play until the end of the season now, so that he can say he played his last season and did well. I still think he has got a lot to offer but he has made his decision."
Liverpool remain in the Europa League going into the last 32 stage, while hopes continue to linger over qualification for the Champions League.
The 35 year old must make eight more league appearances this season for Liverpool, his next opportunity coming against West Bromwich Albion on Monday, in order to finish with 20 for a 16<sup>th consecutive campaign, a definition of his unerring consistency.
Having enjoyed a recent run in the first-team at the expense of Martin Skrtel, Downing was surprised at the decision for Carragher to call time on his career.
"I was quite shocked because he's been playing and I thought he maybe had got the itch back to give it one more year," Downing added.
"But I can understand because the type of player that Jamie is, he's not one to be sat around. You can see he gets frustrated when he is not playing and he's basically like a manager when he's sitting on the touchline.
"Honestly, he's just commentating all the way through, like at Oldham recently. You can see he's got the potential to be a manager. He thinks about the game all the time and knows everything about any player. That's why I found it strange.
"What's he going to do because I think football is his life? I thought he would have stayed on for another year but credit to him. He's obviously seen that maybe he's not going to play as much as he would like. It's a big loss for us."