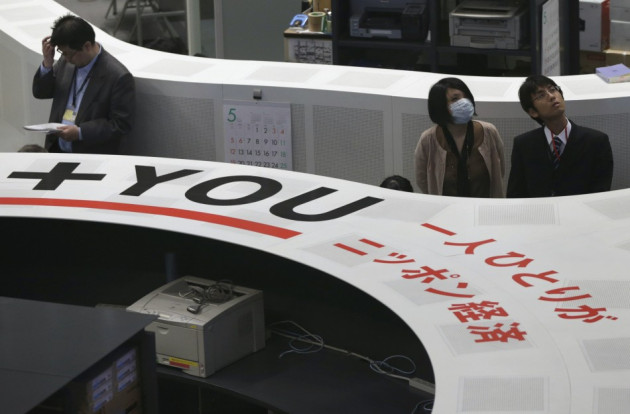 Most Asian equities inched up in early trade while Japanese stocks overcame their shakiness, after the previous day's volatile trade that forced the Nikkei to shed over 3%.
The Nikkei gained 1.1% or 140.37.21 points to 14292.02, supported by exporters' stocks. China's Shanghai composite index added 0.1% or 3.38 points to 2296.46.
Australia's S&P/ASX was up 0.3% or 17.50 points to 4977.40, boosted by banking shares, on its way to post its first advance in six trading sessions.
South Korea's Kospi was up 0.4% or 8.81 points to 1988.78, while Hong Kong's Hang Seng gained 0.1% or 31.81 points to 22717.86.
In Tokyo, Matsui Securities shed 4.2% while Nomura Holdings was down 0.6%.
Mazda Motor rose 3.2%, Fast Retailing moved up 1.5%, while Sony added 1% as the dollar strengthened after dropping below the 101 yen level on Monday.
The greenback, which hit a four and a half year peak on 22 May, moved up 0.9% against the yen to 101.86 early in the day and was trading was trading 0.98% higher to 101.95 at 2:45 p.m. Japanese time .
Banks provided support to the Australian market, after suffering huge losses in recent trading sessions when investors locked in profits in high dividend-yielding stocks.
Bank of Queensland gained 1.5% while Westpac Banking moved up 1.2%
In Hong Kong, Cathay Pacific Airways added 0.8% after crude-oil prices eased. Brent crude dipped 0.1% to $102.53 while US crude futures dropped 0.5% percent to $93.67 a barrel on lower demand.
Data from China last week, pointing to surprisingly poor manufacturing activity in the world's second biggest economy, introduced demand concerns.
China Construction Bank inched up 0.5%, while Industrial & Commercial Bank of China added 0.4%.
On 27 May, the European markets closed higher but volumes were low given that the UK and the US markets were closed on account of a holiday.