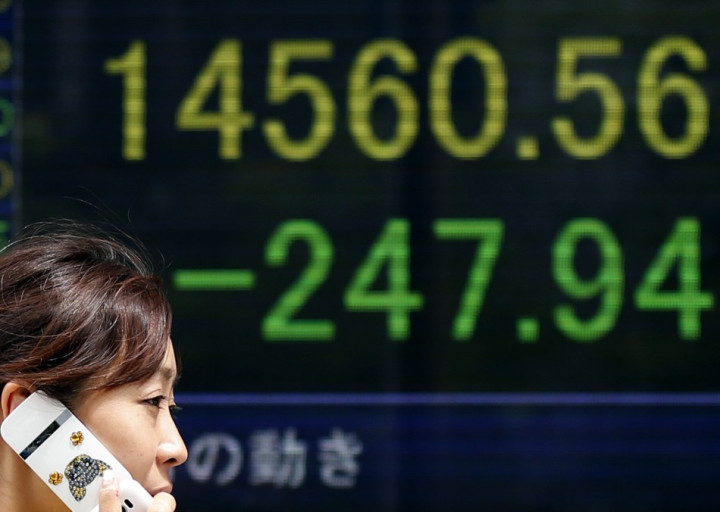 Asian markets were mixed on Friday, after a wave of selling pushed Japanese stocks to erase early gains, ahead of an election for parliament's upper house in Japan this weekend.
The Japanese Nikkei was trading 1.45% lower or 214.82 points to 14,593.68, sliding from a two-month peak earlier on Friday.
Australia's S&P/ASX index was trading 0.41% lower or 20.70 points to 4,972.70.
The Shanghai Composite index was down 0.35% or 7.10 points to 2,016.30.
Hong Kong's Hang Seng was up 0.09% or 18.75 points to 21,363.97.
South Korea's Kospi was trading 0.03% lower or 0.60 points to 1,874.88.
In Japan, a victory on Sunday will give Prime Minister Shinzo Abe control of the upper house of parliament. His Liberal Democratic Party (LDP) already has a majority in the lower house of the parliament
A big victory for Abe would allow him to prioritise nationalist policies at the expense of painful structural reform, though the markets are hopeful such an outcome will not materialize, Reuters reported.
On Wall Street, indices ended higher with the Dow and S&P 500 logging record highs.
Indices were buoyed by upbeat economic data and after US Federal Reserve chief Ben Bernanke said that "overall policy, including (the Fed's) rate policy, (was) going to remain highly accommodative," even as the central bank begins pruning its monthly asset buys.
Government data showed that weekly jobless claims in the US dropped to their lowest level in four months. Elsewhere, business activity in the mid-Atlantic region jumped to its best level since March 2011, according to a survey by the Philadelphia Federal Reserve.
The Dow finished 78.02 points higher at 15,548.54. The S&P 500 ended 8.46 points higher at 1,689.37, while the Nasdaq closed 1.28 points higher at 3,611.28.
Earlier, the city of Detroit, the birthplace of the American auto industry, filed the largest municipal bankruptcy in US history on Thursday. The stage is now set for a costly court battle with creditors and it opens a new chapter in the long struggle to revive the city's fortunes, Reuters reported.
In Tokyo, semiconductor maker Tokyo Electron dropped 5%. Utilities firm Tokyo Electric Power fell 4.6%. Automobile maker Isuzu Motors shed 2.5%. All three stocks reversed early gains.
Consumer electronics major Sharp came off its early highs but was still trading 1.5% higher on news that it is considering raising funds through a private placement to building and housing materials firm Lixil Group and power tools manufacturer Makita. Lixil gained 1.3% while Makita shed 1.4%.
Panasonic gained 1.3% on news that its subsidiary Sanyo will pay $56.5m in fines in the US for their involvement in a price-fixing case involving automotive parts and notebook computer battery cells.
Index heavyweights such as telecoms firm Softbank, Fast Retailing and industrial robotics maker Fanuc shed between 1% and 2%
In Hong Kong, banking major HSBC added 1.1%
In Shanghai, Bank of China moved up 1.1% while Agricultural Bank of China (ABC) inched up 0.8%.
Realty firm China Merchants Property fell 3.5% while rival Gemdale lost 2.6%. China Overseas Land and Investment shed 1.7%.
In Sydney, oil and gas major Santos dropped 3.5% after the firm cut its outlook for oil and gas output. April to June second-quarter output dipped 5% it expects a 3% reduction in output for 2013.
Resources major BHP Billiton and Anglo-Australian miner Rio Tinto shed 1.2% each.
In Seoul, index heavyweight and tech giant Samsung Electronics lost 1.3%.
LCD panel maker LG Diplay shed 1%, reversing a 2% gain after it reported that profits in the April to June second quarter surged 53%, boosted by a higher demand for large screens used in television sets.
Korea Electric Power and Korea Plant Serve and Engineering added 0.2% each. South Korea's power regulator announced that two nuclear power plants would be restarted this week.